'Doe a deer a female deer, ray a drop of golden sun!' - What memories do these familiar words and its happy lively tune evoke in fans of The Sound of Music? Maria running across the beautiful alpine mountain tops singing 'The Hills are Alive'? The singing nuns trying to solve 'a problem like Maria'? Kids clothed in curtaining fabric traipsing across the country side? Leisl singing 'I am sixteen, going on seventeen'? The children performing 'So Long,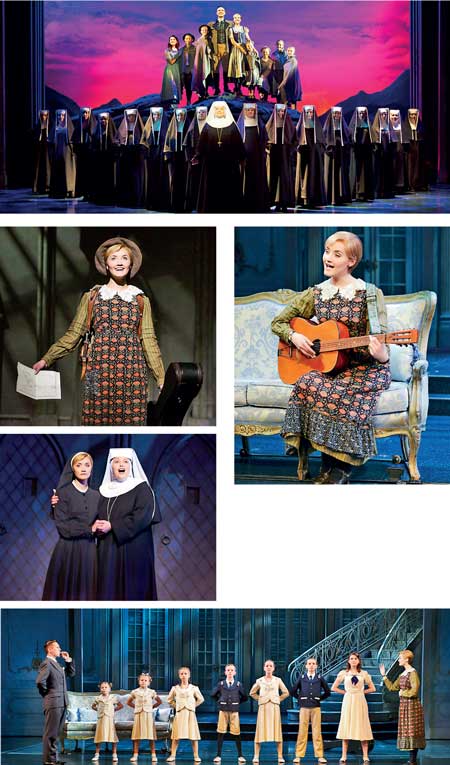 Farewell' at the ball, or the poignant moment when the Baron's voice breaks with emotion as he sings 'Edelweiss'? What a treasure trove of memories come flooding back, bringing with it the sweet memory of something good, timeless and precious. The Sound of Music, with over 1,500 Broadway performances, six Tony Awards, three million albums sold and five Academy Awards to its name, is one of the best-loved musicals of all time. And Colombo will soon be privy to its own private viewing of the Broadway classic, as Cinnamon Life presents the award winning musical production by Andrew Lloyd Weber and David Ian's The Really Useful Groups.

What is the eternal appeal of The Sound of Music? In an age where Hollywood blockbusters, fast cars and action thrillers are the order of the day, there seems to be an almost magical spell cast by this timeless story about Maria and the von Trapps. Though seemingly a simple love story, The Sound of Music is so much more. It is about Maria's journey of self-discovery as she transitions from wanting to be a nun, to being a governess to getting married and the complexities she faces as she makes her choices. It is a story about the young von Trapp children learning not only to sing, but to also how to be regular children revelling in the joy found in the simple things. It is about Baron von Trapp and his deep love for his Austria, and his courage and integrity to stand in defiance to an evil regime. It is a story that with undeniable grace and poignancy celebrates all that is good and true about life – love, courage, family, loyalty and honour - and thus a very apt first for many such inspiring events and experiences that Cinnamon Life plans for Colombo. Cinnamon Life, the integrated development by John Keells Group, a virtual city within a city, consists of an 800-roomed luxury Cinnamon Hotel, an array of entertainment facilities, premium residential apartments, retail and entertainment mall, office spaces, and many other attractions. With its sights firmly set on becoming the epicentre of modern South Asia, the development's iconic design by Cecil Balmond will span across 4.5 million square feet. Determined to make Colombo the hotspot of entertainment in the Indian sub-continent, Cinnamon Life promises that The Sound of Music is just the first of many such high-calibre performances planned for the near future.

In a few short weeks, the Broadway production of The Sound of Music will be performed live at the Nelum Pokuna Theatre. The sets, production equipment, as well as cast and crew members, will be flown in especially for the performance. Fans of this timeless classic are promised an unforgettable live experience as Cinnamon Life partners with Broadway Asia International, one of the world's leading entertainment and live touring bodies. The production will be staged from 14 to 18 February and tickets for the show can be booked on 011 2161161 or through www.cinnamonboxoffice.com

Cinnamon Life presents Andrew Lloyd Webber and David Ian, the Really Useful Group production of The Sound of Music - in association with Sri Lanka Tourism Promotion Bureau, powered by Nations Trust Bank, American Express and Mercedes Benz from DIMO; airline partner, SriLankan Airlines; skills development partner, British Council; banking partner, Nations Trust Bank Private Banking; inbound travel partner, Walkers Tours; print media and web partners, Sunday Times, Daily Mirror, Daily FT, Life Online, Daily Mirror.lk, Hi Magazine and HI TV; radio partner YES FM and Legends 96.6; creative partner JWT; print partner Anim8; outdoor media partner Emerging Media; tea partner Dilmah Tea; telecommunication partner Dialog; Pay TV partner Dialog TV; cinema partner Scope Cinema; and official photographer Sagara Lakmal Photography.