SLT VisionCom Ltd. held its annual Awards Night recently at Galle Face Hotel, Colombo, where the senior management created a notable experience among staff by recognising the best performers of the company in 2018. Employees who excelled in all disciplines were awarded under multiple categories such as highest achievements in Corporate Sales, Residential Sales, PEO TV Service Provisioning and excellent contribution through Initiative and Creativity, Value Creation through Synergy, exceptional overall Performance and Achievement and Outstanding Leadership.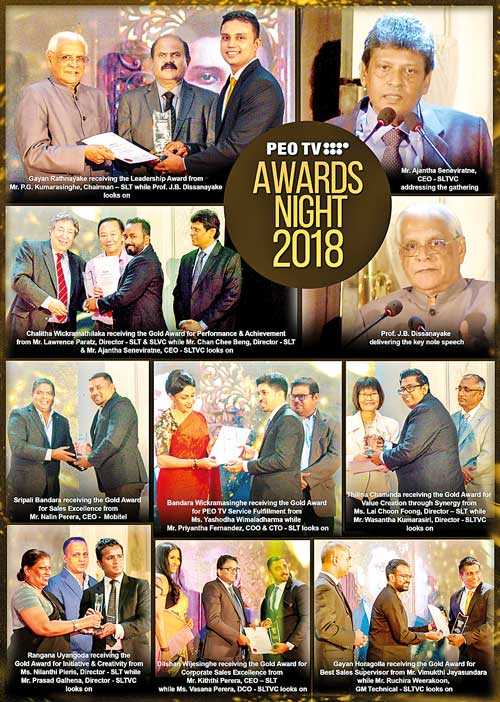 The occasion was graced by SLT Chairman Chief Guest P G Kumarasinghe, the Board Directors of SLT and SLT VisionCom (SLTVC), Chan Chee Beng, Lawrence Paratz, Lai Choon Foong, Nilanthi Pieris, Wasantha Kumarasiri and Prasad Galhena accompanied by SLT CEO Kiththi Perera, SLT COO and CTO Priyantha Fernandez, chief executive officers of other subsidiaries, chief officers of SLT and SLT VisionCom CEO Ajantha Seneviratne.

The keynote address was delivered by Professor J.B. Dissanayake, speaking on unleashing potential and inherited talents towards the betterment of teams. Award-winning local film actress Yashodha Wimaladharma and International Award Winner for film direction Vimukthi Jayasundara were among the guest invitees.

SLT VisionCom was formed as a fully-owned subsidiary of SLT, to market the first-ever Internet Protocol Television (IPTV) product, known as SLT PEO TV provisioned in Sri Lanka in late 2008. PEO TV differentiated its offering by introducing Rewind TV, Time Shifted TV, Picture-in-Picture, Movies on Demand, Music on Demand and many other TV applications for the first time in Sri Lanka and has now become one of the most sought-after products among customers, reaching close to 500,000 subscribers spread island-wide offering unmatched TV capabilities.