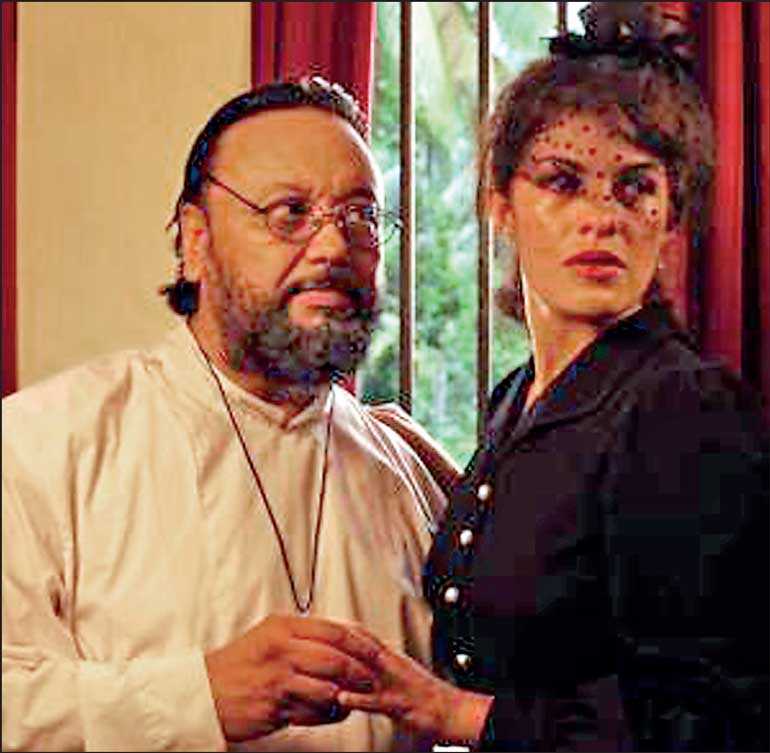 ---
"According to Alston" it was love…
Colombo is abuzz with talk of events from the past; the Rev. Fr. Matthew Pieris saga seems to have been given new life with the screening of the controversial film, 'According to Mathew'. Alston Koch who portrays the role of the fearsome priest shares his views of the character.

He mentioned, "Acting is very new to me and it was the convincing of internationally acclaimed movie director Chandran Rutnam to take on this very complicated role of Fr. Matthew that gave me the confidence to consider the role."

While engaged in research on Fr. Matthew prior to filming, Alston had stumbled on many who had been introduced to good living and numerous persons who had been exorcised and continue to live a normal life. He portrayed a priest, a husband, a researcher and writer, a lover and a murderer… a multi-faceted personality who finally met his fate because of lust and desire.

Alston acknowledged, "I would lay awake knowing the filming scene of the next day and trying to bring out the personality of the Priest, whether it was the charisma in his preaching or the ruthless scenes of dominance."

Research has revealed that once Dalreen Ingram, a mother of three, started working in his office, the Priest found himself drawn to her in body and in mind. "The meeting of minds made him emotionally bonded to her," quipped Alston. He also added, "She too was drawn to him, as she saw in him, a man who was able to get his thoughts into action, a man whom she could respect, unlike her husband who was unemployed and in a weak state of mind. Her vulnerability and the time spent together intensified the attraction between the two, which developed into a volatile relationship."

There is no logical explanation to the Reverend's final actions. If it was desire and a lustful relationship he longed for with Dalreen, he need not have committed the horrendous murders. A spiritual man, who knew the cost of adultery continued to pursue his passion and his longing to possess her for himself solely. Was Fr. Matthew in love with Dalreen or was it just his psychopathic nature?