Richa Gupta
---
The Swami Vivekananda Cultural Centre (SVCC), High Commission of India, Colombo, has organised an evening of Indian classical dances – Kathak by Richa Gupta and Vidha Lal, and Kuchipudi by Dr. Anuradha Durbhakula – at 6 p.m. on 23 August at SVCC auditorium located at 16/2, Gregory's Road, Colombo 7.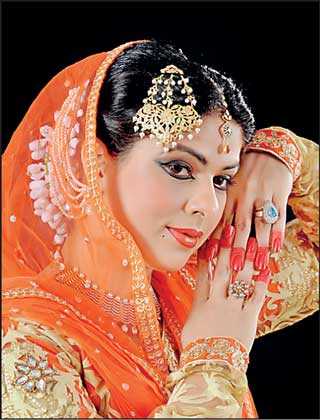 Vidha Lal


Vidha Lal, a multi-faceted Kathak exponent, is a disciple and daughter-in-law of renowned guru and Sangeet Natak Akademi awardee, Smt. Geetanjali Lal of Jaipur Gharana. She completed her diploma (hons.) from the National Institute of Kathak, New Delhi, in 2000, and is a scholarship holder of Kathak Kendra, New Delhi.

She has been honoured with several awards, such as Bismillah Khan Yuva Puraskar (2017) by Sangeet Natak Akademi, New Delhi in 2018; Utthan Natraj Award (2018) by Utthan Samiti, New Delhi; Sri Jaidev Rashtriya Yuva Pratibha Puraskar (2014), Bhubaneshwar; Sri Krishana Gana Sabha Endowment Award, Chennai; Nrityajayantika Award by Guru Mayadhar Raut Odissi Dance Academy; and 8th Devdasi National Award (2013), Bhubaneswar, India.

Vidha Lal has performed in various festivals, such as Saptak Music and Dance Festival, Vividha Sanskritik Parv organised by North Central Zone Cultural Centre, Allahabad, Ministry of Culture Government of India, and Suryaprabha Dance Festival, at Vadodara, India. Richa Gupta started learning the nuances of Jaipur Gharana from the age of five under the tutelage of Guru Ghanshyam Gangani. Currently, she is being trained by her Guru-Bhai Manoj Gangani who is the disciple of Guru Geetanjali Lal and Guru Rajender Gangani. She has completed B.A. in Kathak Dance from Prayag Sangeet Samiti, Allahabad. Richa Gupta has been honoured with several awards, such as Natwar Gopikishan National Award (2017) by All India Dancers Association; Arjun Mishra Award (2019); Padmavati Pratibha Award (2015); Natraj Bhushan Award (2015); and the 'Film Media Award' in the field of Dance by U.P. Films Photo Journalist Welfare Association, in 2007 and 2009. Richa Gupta has performed in various festivals, such as Kathak Mahoutsav of Jaipur Kathak Kendre, Riyawat festival (Amravati), Kalingawan festival (Bhuvneshwar), Ayantavila Shree Mahalakshmi National Dance Festival, Articulate Festival (Mysore), and Dubai International Dance.

Dr. Anuradha Durbhakula learned the nuances of Kuchipudi under legendary guru Sri Pasumurthy Seghu Balu, guru PVG Krishna Sharma, Guru P. Seshu Balu and Guru Shri P. Srinivasasulu Garu.