From left: Malini Fonseka, Sangeetha Weeraratne, Cletus Mendis, Ravindra Randeniya, Dialog Axiata, Group Chief Marketing Officer Amali Nanayakkara, Cinestar Foundation Chairman Jayantha Dharmadasa, Cinestar Foundation Director Tilak Hewakapuge, Channa Wijewardena, Sriyani Amarasena, Jeevan Kumaratunga, Dialog Axiata Senior General Manager – Brand and Media Harsha Samaranayake
---
Sri Lanka's premier Silver Carpet show returns for its 16th live performance
Lights, camera, action! Sri Lanka's only Silver Carpet event, Dialog Ridee Reyak 2018 comes alive once again on 23 December, from 6:30 p.m. onwards at the BMICH to bring audiences an unforgettable night of music, glamour, dance and entertainment.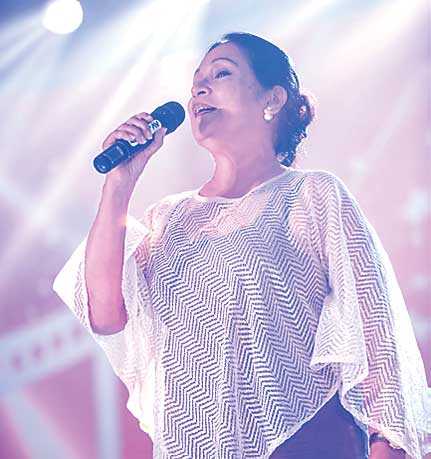 Dialog Ridee Reyak, Sri Lanka's premier Silver Carpet event sponsored by Dialog Axiata PLC, has over the years grown to be reputed as one of the most glamorous events on the local entertainment calendar. The program, showcased by the Cine Star Foundation for the 16th occasion is done so to raise funds to support over 320 local cinema artistes. The Cine Star Foundation, via funds generated from the Dialog Ridee Reyak show, annually provides medical and life insurance covers to its members and a monthly stipend to deserving yester-year artistes.

Honouring this long-standing tradition in Sinhala cinema, 'Dialog Ridee Reyak 2018' scheduled to go live on stage for the 16th such occasion on 23 December, will feature stars who will sing and dance to popular hits of today and yesteryear. These include the likes of Ravindra Randeniya, Malani Fonseka, Sriyani Amarasena, Cleetus Mendis, Veena Jayakody, Jeewan Kumaranathunga, Sriyantha Mendis, Dilhani Ekanayaka, Sangeetha Weeraratne, Channa Perera, Jackson Anthony, Yashodha Wimaladharma, Bandu Samarasinghe, Tennyson Cooray, Anusha Damayanthi, Nilanthi Dias, Manjula Kumari, Upeksha Swarnamali, Roshan Pilapitiya, Suraj Mapa, Saranga Disasekara, Pubudu Chaturanga, Roshan Ranawana, Wasantha Kumarawila, Giriraj Kaushalya, Chilie Thilanka, Vishwa Kodikara, Sachini Ayendra, Dinakshi Priyasad, Sheshadri Priyasad, Shanudhri Priyasad, Udari Perera, Shalani Tharaka, Ruwan Wickramasinghe, Priyantha Wijekone, Tharuka Wanniarachchi, Udari Warnakulasuriya, Senali Fonseka, Chulakshi Ranathunga and many more. The Channa Upuli Dance troupe, who mesmerised audiences in the previous 15 editions of Ridee Reyak, will once again light up the stage this year.

Dialog Axiata is a strong promoter of local arts and culture, and the welfare of Sri Lankan artistes. In 2015, Dialog Axiata entered into a memorandum of understanding with Cine Star Foundation to support Ridee Reyak as gratitude for the yeomen service artistes from the silver screen have rendered to the public.

Tickets for Dialog Ridee Reyak 2018 are priced at Rs. 1,500, Rs. 2,000, Rs. 3,000, Rs. 4,000, Rs. 5,000, Rs. 6,000 and Rs. 7,500 will go on sale at Sadeepa – Borella, Sarasavi Bookshop – Nugegoda/Maharagama/Kiribathgoda and at the Cine Star head office at the Nawaloka Hospital, Colombo 02. Mobile tickets can be obtained by dialling 444 from any Dialog mobile number and the 444 app and web can be accessed via any mobile network. The hotline for tickets is 0779 779 222.