Veteran and award winning film director Asoka Handagama has written a letter to President Maithripala Sirisena with copies to Prime Minister Ranil Wickremesinghe and the Minister In-Charge of the National Film Corporation (NFC), concerning the Government's decision to handover over cinema distribution to NFC. Following are excerpts:
Being a filmmaker who has been contributing to develop our cinema locally and internationally for nearly three decades, I was shocked to hear the news on the Government's decision to take-over the cinema distribution in Sri Lanka under State Monopoly through NFC.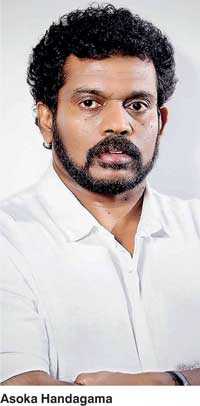 In my opinion, this shows how unwise the authorities are in understanding, keep aside art and cinema but simple economics given the contemporary global economic trends and conditions. NFC had a role to play in cinema distribution in the '70s when the country's economic affairs were governed by inward looking closed economic policies. When the economic policy changed from closed to open in 1977, things started to change. Being a knowledgeable and practical person, the founder chairman of NFC, D.B. Nihalsinghe, left the NFC in 77 knowing that his role as a leader of NFC was over.

He left NFC and later in the wake of introduction of television to the country, established the first private TV production house TeleCine Ltd. Protective policies that artificially insulated the cinema industry from the influence of technological advances in world cinema were already in a crisis due to very low technical standards when compared with that of world cinema. Technologically we were using the equipment that were made to cover WWII. Technical quality of our productions as well as the standards of projections were incomparably poor. Through the newly introduced television, people found a better alternative for audio-visual entertainment.

The crisis in cinema erupted like a volcano. NFC could not secure the market share in the entertainment industry. It has been in deteriorating trend, when Tissa Abeysekara, one of the most respected cinema personalities, the then chairman of NFC decided to give-up the NFC's distribution monopoly. He opened the distribution channel to private institutions. The mistake he did was paying little attention on regulatory role of the NFC, allowing room for creating an Oligopolistic market.

In my opinion, there is no crisis in cinema. What we have been experiencing through the last 5-10 years is a transition. The structure of our cinemas needed to be changed. Given the diversity in cinema genres the audience is segmented. In order to cater to this diverse market, multi-screen cinema complexes to replace standalone large cinemas needed to be built. The most modern technology in both production and projection needed to be adopted. This change has been taking place. Private entrepreneurs started building new cinema complexes with state-of-the art technology, even in remote locations like Kegalle, Ratnapura, Kurunegala, Jaffna, Gampaha, etc. This transition process will come to a grinding halt with this abrupt intervention of NFC.

What NFC should have done was transforming itself into a Cinema Development Board. It could work towards developing a rich cinema culture. It should regulate the industry ensuring the minimum technical standards of cinemas. It should make sure that in each (multi-screen) cinema complex, at least one or two screens or 60% of screen time is allocated for locally produced movies. It should implement a concessionary scheme for movies that represent the country in prestigious international film festivals. They can initiate an international film festival, which can be used to develop Colombo (Sri Lanka) as an international tourist destination and as a world cinema destination. It can initiate a film school and an archive.

The NFC should encourage the private entrepreneurs entering the cinema market and making a level playing field for cinema distribution. The Government can charge a percentage from the ticket to sustain the Cinema Development Board. I believe that by this way the Government could have intervened to drive forward the cinema.

I was one of the members who was in the committee to discuss the measures to be taken to address the current issues in cinema and according to my understanding there was no recommendation from that committee to lead the Government for this unwise action. Therefore, I sincerely request the Government to revisit its decision to take over the cinema distribution by NFC and reverse it.