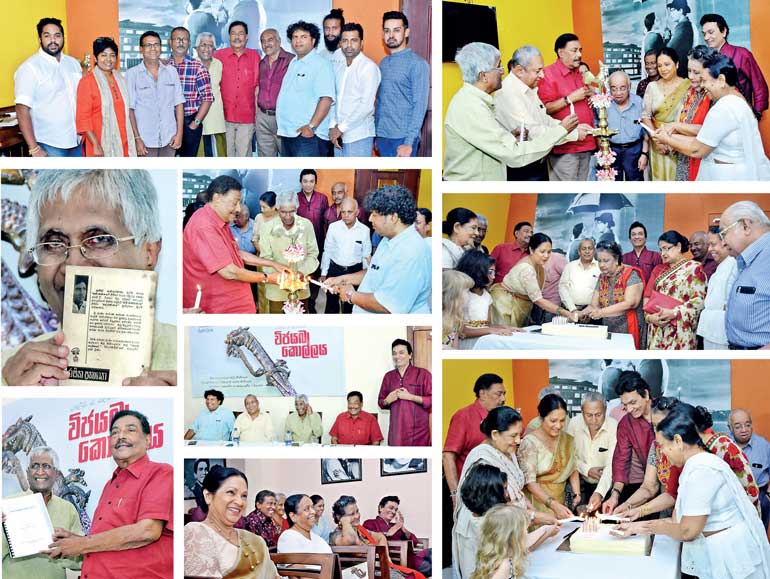 Veteran film producer Dr. Buddhi Keerthisena last week launched his newest film production yesterday at the Mathura Restaurant in Bambalapitiya amidst a distinguished gathering including National Film Corporation Chairman Sithendra Senaratne, senior artistes Ravindra Randeniya, Visharada Nanda Malini, Sriyani Amarasena and several others.

The movie titled 'Vijayaba Kollaya' will be directed by Prof. Sunil Ariyaratne while Boodee Keerthisena will be the Executive producer.

Incidentally this will be Buddhi Keerthisena's 8th film production and Prof. Sunil Ariyaratne's 23rd film production.

The script has been written by the late Dr. Tissa Abeysekara based on the 1938 historic romantic novel of celebrated author W. A. Silva.

Addressing the gathering at the ceremony held to mark the movie's launch, Prof. Sunil Ariyaratne said getting the opportunity to bring to life characters of the novel which he had enthusiastically studied as a schoolboy, was unbelievable and thanked Keerthisena for giving him the opportunity.

Keerthisena in his address said he hoped to make this a successful film project which would be embraced by the masses.

Dr. Rohana Weerasinghe will direct the music, Channa Deshapriya the cinematography while Manohari Hewawasam will coordinate the production.

The cast has not been finalised yet.