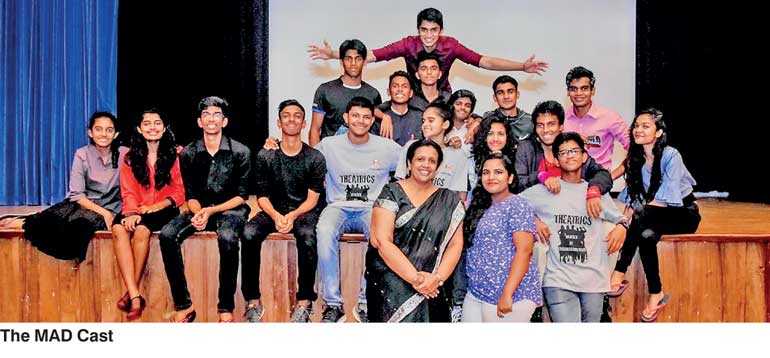 You are invited to unravel the mystery of the 'Murder at Dharmarama Road' on Sunday, 1 July at 7 p.m. at Lionel Wendt Theatre, Colombo 7.

Written and directed by Dhisal Kapuge, an undergraduate of the University of Peradeniya, this is his second original production. He aims at finding the right balance between entertaining drama and valid social commentary. The play presents itself as a dark comedy, combining elements of slapstick, awkward humour, disturbing plot twists, thrilling sequences and unexpected surprises with deep social commentary. This production was produced with the intention of creating a platform where the Sri Lankan situation, for what we know it, could be brought to life to an English speaking audience.

Why the play was done in English is primarily related to one of the key themes of the play, which is racism. English could be identified as the middle ground for both Sinhalese and Tamils. Although the play is considered an English production, it does not limit itself to one language, but spreads out to use all three languages, making this one of the only trilingual plays in the country. The play is heavy on other societal themes such as language, justice, classism, racism, idealism versus realism and family dynamics.

The play had its maiden performance at the Gateway College, Kandy auditorium on 1 December 2017 and gained a very positive response. Due to its success in Kandy, many requested for the production to be staged in Colombo. Seven months later, with the immense support of the staff of Gateway College, Kandy, it will finally be staged on Sunday, 1 July at 7 p.m. at Lionel Wendt Theatre, Colombo. Tickets priced at Rs. 700, Rs. 1000 and Rs. 1500 can now be purchased at the venue (Tel. 0112-695794) or entrance on the day of the show. To reserve tickets, please contact Kaushal (Tel. 0772-007510) or Jacinta (Tel. 0772-094827). Drama Sri Lanka is the Promotional Partner of the production. More about the play on its Facebook event page: goo.gl/mZtqSU.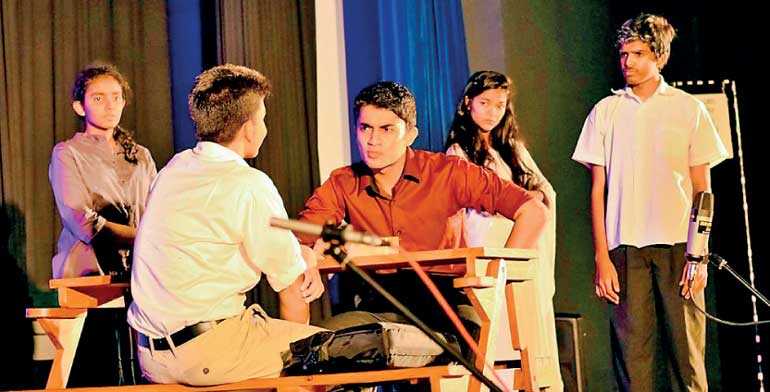 The plot

Sachin Siriwardana, a middle aged accountant drops dead during work at his office at Dharmarama Road (a fictional place where the rich upper class lives). The cause of death is ruled out to be poison, and the detective in charge of the case rounds up the most likely suspects of the murder hoping to capture the killer through confession.

Among the suspects are his wife Srimathie, his best friend Dennis, his boss Nafaz, the office peon Freddie, his domestic aide Deepthi and the lady next door Kamini. The detective leaves them in a wired room alone hoping they would confront each other leading to the real killer to be exposed. The drama revolves around a whodunit mystery where the various confrontations unravel who the characters are, leaving bread crumbs for the audience to find the real murderer.
The cast

Poshia Hettiarachchi

Kaushal Agalakotuwa

Santhush Bandara

Jacinta Richards

Duvini Attygalle

Rishigaran Nagendran

Amaru Jayasinghe

Suha Hamza

Mazeen Mohamed

Zamaan Anas

Sakya Ratnayaka

Isuththi Senthialkumaran

Budmi Rajapakse