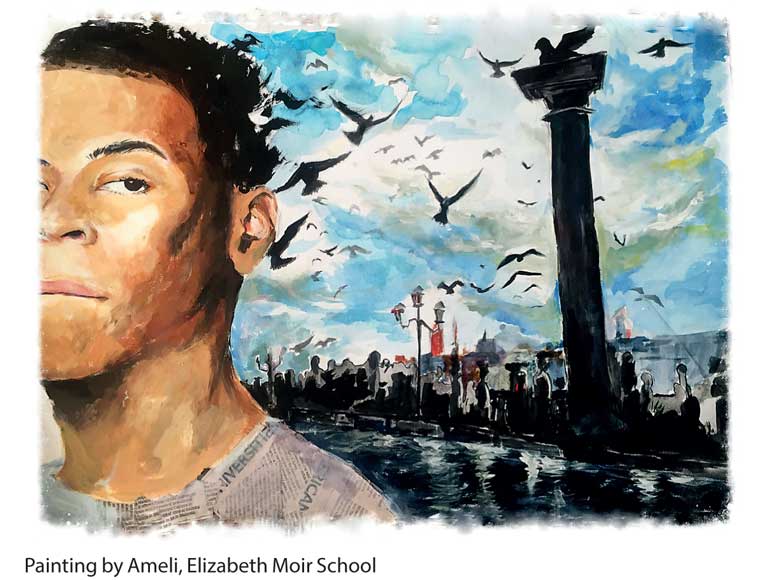 The senior students of Elizabeth Moir School are all set to present their annual art exhibition under the theme 'Faces in Different Places'. As the title suggests the paintings will focus on faces and places and will demonstrate the integration of proportion and perspectives. Drawing on places and people who are important to them, these young artists are gearing up to host an exhibition that demonstrates their talent, originality and flair.

As always, the school's inter-house art competition will be held simultaneously. The theme for this year's competition is 'Be the change you want to see in the world' and the four Houses were free to interpret the theme in their own way, tackling different social issues from gender stigma and acceptance to hypocrisy and the need for change.

Students Shakira and Kaavya cited various factors that inspired the students to create the pieces on display at the exhibition including the time spent developing their skills and trying new techniques while learning to look at different perspectives and enhancing their creative outlook. They also described how the subjects of their paintings are often people close to their hearts, with the paintings serving as tributes of respect, appreciation and affection.

"This year the students decided to integrate proportions and perspective together as the youngest age group starts off their first year in Sr. School learning to draw proportions of faces and figures and in the second year learning perspective in forms of structure and places," explained Art Teacher Aruni Wijegunawardene. "The exhibition is an ongoing project to get the whole school involved and discover how students interpret the topic…giving them the freedom to explore their own creativity, allowing them to amaze us with their many talents. This year the exhibition also features paintings by Ameli who achieved a score of 99% for art at the IGCSE."

The chief guest at the event will be Saskia Fernando of Saskia Fernando Gallery.

Faces in Different Places will be open to the public on Thursday 28 September from 9 a.m. to 12 noon at the JDA Perera Art Gallery, Horton Place, Colombo 7.