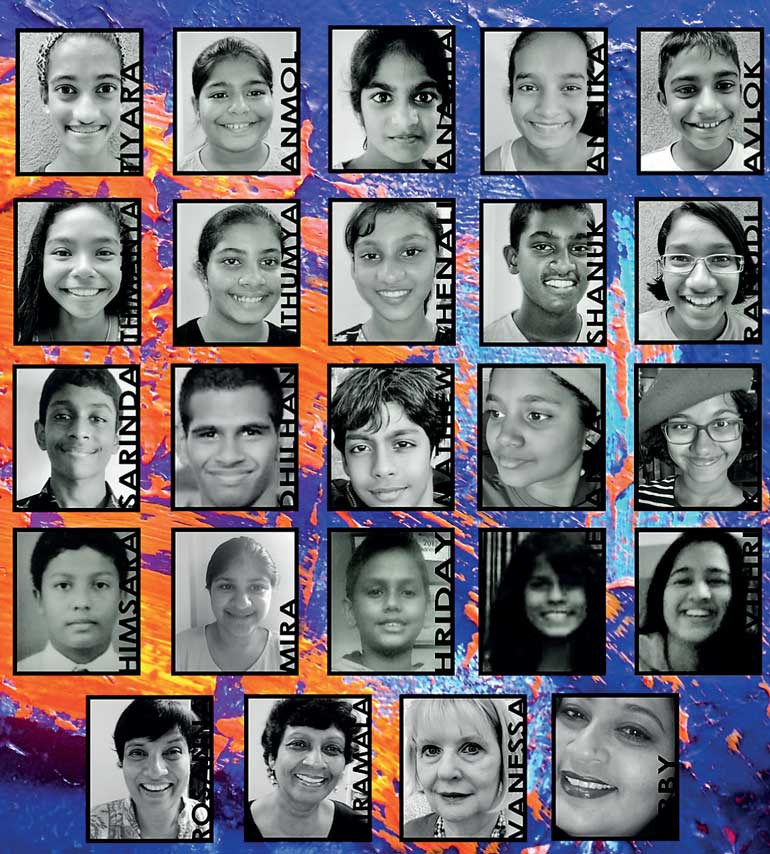 'Defining Dots,' a presentation of art by the students of the Hardy Centre of Art, is to be held on 30 September and 1 October, at the Lionel Wendt Art Gallery Colombo 7, from 10 a.m. to 7 p.m.

This is another exhibition under the guiding hand of Rhuani Rambukwella, who gives her students the freedom to explore talents that may have been dormant or just needed a guiding hand. A stroke here, a line there and her students see their pieces of art turning into master pieces.

This year the focus has been on a style of aboriginal art that makes extensive use of dots of colour. It originated in the desert using natural substances and various diameters of sticks dipped into paint and then applied one dot at a time. Her advanced students were inspired by this art form and experimented by using a multitude of dots to emphasise illustrations bringing out a vibrant collision of colour. Their canvases and palettes vary according to the individual. The result has been strikingly different to other exhibitions.

Her classes are filled to capacity as her students young and old learn the joy of mediums that vary from water colours, charcoal, oils, acrylics, pen and ink, the use of felt pens, as they mingle with chemifix, gum, spirits or just plain water. All working together to present a burst of colour, an incredible work of art that has been drawn from deep within the artist to give satisfaction to those who gaze upon it.

A young artist wise in years said nonchalantly, "Why is it that every artist thinks his work is not good enough, when actually what he has created is brilliant."

Art conveys a silent message but strikes a chord deep within each one. You like it or leave it. Come and view the work created by 22 artists of varying ages. Anash Thirathdas, Anya and Kiara Abhayaratne, Savithri Jayanetti, Tiyara Senananayake, Vanessa, Anasha, Shanalie and Shanuk Goonetilleke, Mathew Vitharna and Nirmala De Silva.