Hayleys PLC owned Talawakelle Tea Estates emerged winners claiming two National Green Awards at the Presidential Environmental Awards ceremony held recently at the BMICH under the patronage of President Maithripala Sirisena.

In an announcement to media, Talawakelle Tea Estates revealed that while the Radella Estate in Nanuoya won a silver award, Deniyaya Estate was honoured with a merit award for its environmental sustainability practices, in the Food and Beverages category. The honours were awarded following a careful evaluation and a rigorous site inspection conducted by a panel of judges appointed by the Central Environmental Authority, confirmed the media announcement.

The Presidential Environmental Awards recognise and honour Sri Lanka's best industrial and service sectors, individuals and non-governmental organisations for their excellent performance towards greening the economy.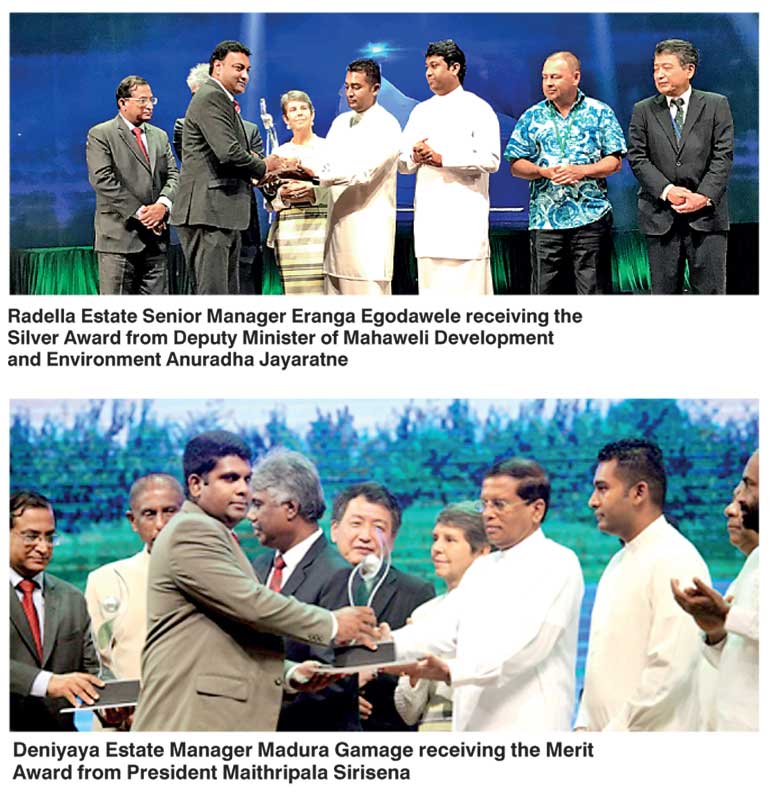 "Sustainability perspective is a focal point in our operations. We believe that the implementation of environmental and biodiversity conservation management practices through our adherence to Rainforest Alliance Sustainable Agriculture Network certification guidelines greatly contributed towards securing these awards," commented Theja Dharmaratne, General Manager, Sustainability and Quality Management Development, Talawakelle Tea Estates PLC.

Apart from the Rainforest Alliance Certification, Talawakelle Tea Estates has obtained Ethical Tea Partnership-UK and UTZ Sustainable Tea certification for most of its estates. In addition, Hayleys plantations has adopted several energy conservation measures such as installation of energy efficient capacitor banks, machinery, equipment and lighting as well as regular awareness programs for employees and resident communities.

The biodiversity surveys carried out on estates have revealed that there are over 220 faunal species and estates are also habitats to over 130 species that are categorised as endangered, threatened and vulnerable species according to the IUCN Red Data List.

As a business diversification strategy, Hayleys Plantations sector intends to leverage its geographical presence and improve its land efficiency by diversifying its crop base to include non-traditional export crops such as spices and alternate beverage crops.

Congratulating the teams at Radella and Deniyaya Estates, Theja Dharmaratne said these prestigious National awards honour not only the respective estates but also the Talawakelle Tea Estates and Hayleys as a whole.