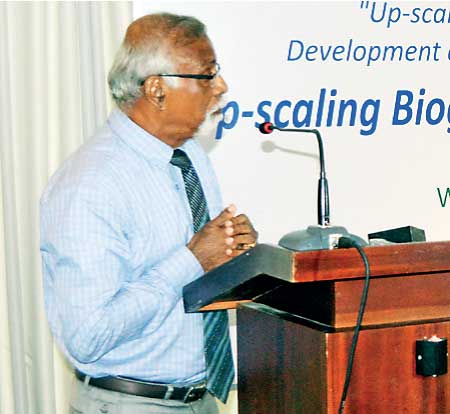 Janathakshan (Gte) Ltd. and People In Need (Czech Republic) held their last project workshop 'Up-scaling Biogas – the Way Forward' at Waters Edge, Battaramulla through the EU SWITCH-Asia Initiative Up-scaling Biogas Technology for Sustainable Development and Mitigating Climate Change in Sri Lanka.

One of the main objectives of the workshop was to discuss the way forward of biogas within the provinces and the continuation and sustainability of the work that has already taken form.

"With the level of encroachment on natural land areas, people above the poverty line want to increase their level of consumption. In Sri Lanka, we need awareness and technical capacity, service delivery with after sales and a sustainable marketplace, financing options and institutional and policy support, for us to move forward," said Janathakshan Chief Executive Officer RangaPallawala.

Speaking on the provincial experiences of biogas technology was North Western Province Engineering Department Additional Director Salinda Bandara. The North Western Province is one among the five provinces targeted by the Project to up-scale and promote biogas. The other provinces included Western, Central, Eastern and Southern. At the inaugural Association of Provincial Biogas Committees held in Yapahuwa in February, the association vested their interests in wanting to include other provinces in the country as well.

"Within the project period, I think all of the provinces worked in a system and manner that they found to be most comfortable. While North Western, Southern and Eastern Provinces were the most progressive, Central and Western Provinces went ahead with a unique plan that was most suitable to their systems. The role of the Provincial Biogas Programs or PBPs is to coordinate between the different stakeholders of the biogas sector, develop a biogas promotion plan for the province including sectors such astechnology development, training of human resources, promotion and awareness creation and establishing financial support systems and developing policy and regulation recommendations for biogas," said Bandara.

The workshop on 'Up-scaling Biogas – the Way Forward' has helped set a goal and mission for the association as well as assisted in identifying areas that ought to be prioritised.

The project is focused on up-scaling biogas technologies for sustainable development, responsible tourism, economic growth contributing to poverty reduction and climate change mitigation in Sri Lanka. The project targets tourism Small and Medium Enterprises (SMEs), households and public authorities in the country while building the technical capacity of manufacture and construction SMEs in biogas technologies. The project also supports micro-finance institutions to develop financial schemes providing loans for biogas installations to SMEs and households.

The EU SWITCH-Asia initiative assists tourism SMEs and households benefit from sustainable solid waste management and cost savings through energy and resource efficiency. Tourism SMEs adopting "green" technology will also increase their marketing potential and gain the access to "green finances" provided by micro-finance institutions.