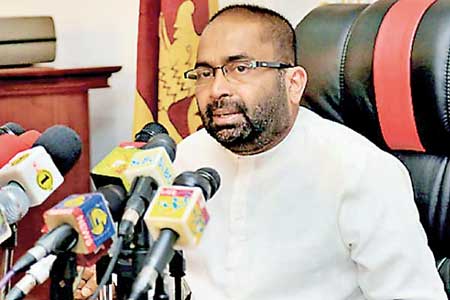 Power and Renewable Energy Minister Ranjith Siyambalapitiya
Power and Renewable Energy Minister Ranjith Siyambalapitiya has promised that the Government will continue an uninterruptable electricity supply even though the water levels of main streams have declined due to the drought.

He said that if the entire country treated the electricity supply as the number one need of the country the Government will be able to generate electricity until upcoming 31 May by using the existing water resources.

However, Siyabalapitiya warned that the country will fall in to electricity crisis after 21-22 April although the main stream waters are used to supply drinking water for the entire country.

"The major rivers which we used to generate electricity are also used to purify drinking water. If we use them for both requirements the existing water levels would not be enough to generate electricity after mid April. However we will take necessary action to supply uninterruptable electricity supply, but it will cost to the Treasury," he said.

The minister added that in an electricity crisis the Government should have to buy electricity from private suppliers and it will make a huge expenditure to the state.

To avoid those expenditures, Siyabalapitiya demanded that the public reserve electricity and drinking water to face the prevailing dry weather.

He said if the public could switch off unnecessary lamps and builds at least 1/2 hour earlier it will help to save energy.