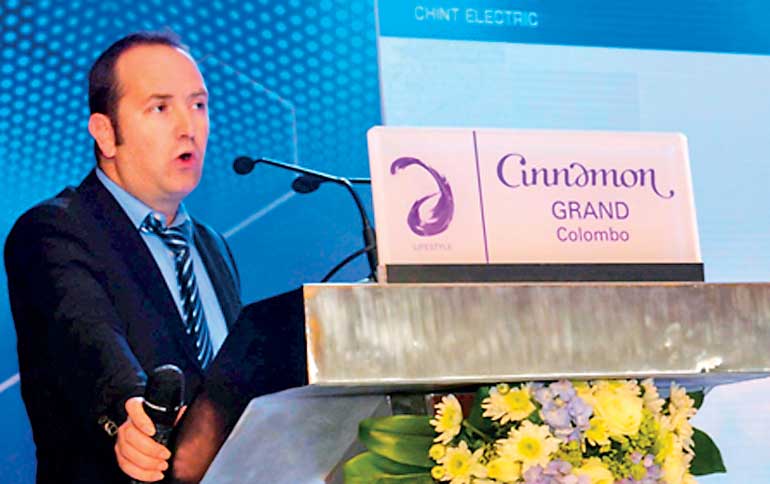 CHINT Power Projects Ltd, the Sole Agents in Sri Lanka for world renowned "CHINT" brand electrical items was successful in establishing its global presence to a well attended gathering of Electrical Consultants, Architects, and Engineers in the Electrical and Construction industry at a colourful and attractive brand awareness presentation and cocktail dinner held recently at the Cinnamon Grand .

Addressing the gathering Electrical Engineer attached to CHINT subsidiary in Spain, Andres Garcia described the gradual expansion of sale of CHINT brand electrical items in Europe and over the years , emphasised its acceptability after securing quality standard certifications from the respective countries and outlined his personal experience in dealing with CHINT electrical items in Spain during the past 12 years after joining the company which is a 100% owned subsidiary of the main company.

CHINT products are presently sold in over 130 countries worldwide through its own subsidiaries based in different parts of the world and also through the distributor network covering all major developed countries in almost all the continents of the world. CHINT is the only international electrical brand presently available in Sri Lanka having secured local and international quality certification for its consistent quality as they have secured SLS Certification for 05 of its products including RCCBs and MCBs in addition to international certification such as UL from United States of America, VDE from Germany, KEMA from Netherlands to name a few.

The brand "CHINT" is also considered as having the widest range of electrical items in Sri Lanka under a single brand name and considered as one of leading suppliers of low voltage protective switchgear to the Ceylon Electricity Board having supplied over 1.8 million MCBs and over 80,000 MCCBs since the year 2005.

Speaking at the forum CHINT Power Projects Ltd Director Bandula Ranasinghe highlighted the local operation of the company which includes electrical installation and other MEP work , electrical distribution panel fabrication , energy saving solutions and supply of electrical items to private and government institutions, and stressed that the company is desirous in establishing a long term relationship with stakeholders and being identified as a responsible organisation which would offer the best deal in all aspects from quality, pricing, accountability to the availability of products etc.