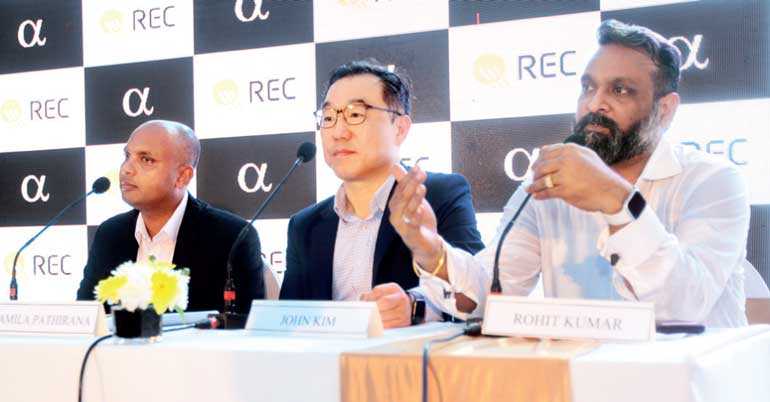 From left: Amila Pathirana, John Kim and Rohit Kumar
Utilising most advanced commercialised technology, heterojunction technology, the REC Alpha Series is the world's most powerful 60-cell monocrystalline solar panel, delivering up to 380 watt-peak (Wp) and reaching an industry-leading 21.7% efficiency rating. This translates to a power density of 217 W/m², providing 20% more power than the same number of conventional panels in the same area.

REC Group, an international pioneering solar energy company with a Scandinavian Heritage, hosted a grand evening exclusively for Sri Lanka market in Colombo at Cinnamon Lakeside. The evening was attended more than 120 people comprising senior officials from the sustainable authority, rooftop-integrators and end-consumers from across all industries.

As a market Sri Lanka has mostly quality conscious consumers focused on performance and reliability of components which has helped REC gain a healthy market share of over 20% in the solar segment across rooftops and utility.

APAC Vice President – Sales John Kim mentioned: "Sri Lanka is a leading example of a progressive nation in Indian Subcontinent which has taken a lead in Climate Mitigation. With REC we hope to continue and build upon our strong relationship and ensure that our Sri Lankan customers get only the best quality product for sourcing their solar-energy needs."

"REC has been considerably successful in the Sri Lanka market owing to its exceptional quality and high performing solar panels which are all manufactured from our state-of-art factory in Singapore. As a global technology leader, we hope that with the next-generation REC Alpha Series, our dedicated customer base in Sri Lanka would truly benefit as it offers maximum power and reliability so crucial for rooftops and space-constrained areas," added REC Group Indian Subcontinent Head Rohit Kumar.

The evening also saw REC felicitating it long-term partners HI Energy and BamGreen in Sri Lanka as an Authorised Distributor for their exceptional support in creating a dedicated customer-base.

REC Group wishes to continue its momentum in the Sri Lanka market and with the REC Alpha Series and recently introduced product warranty of 20 years and 25 years on the power-output it has already carved a niche among the Sri Lankan customers who are looking for a world-class solar panel. As a commitment to the Sri Lanka market REC has also appointed a dedicated country-manger in Colombo with an aim to stay closer to our customer base and serve them better.