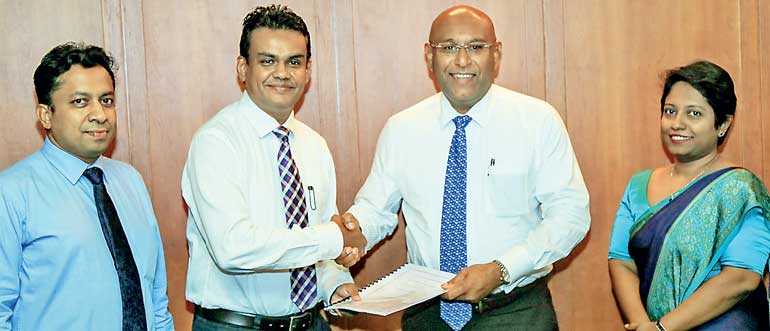 Marking a landmark initiative aimed at making the power consumption affordable and feasible for the local community, Ceylex Ltd. signed a loan agreement with NDB bank on Friday (21) to develop two wind power projects in Chavakachcheri area of Jaffna. Driven by state-of-the-art technology, each power project will have a power capacity of 10 megawatts.

Generating power through a renewable power source such as wind is bound to make electricity a more affordable commodity to the local consumers. The cost effectiveness and eco-friendly nature of the project make it a venture that fully facilitates and supports the Government's principle on sustainable development. As a natural power source which is renewable and plentiful, the 'wind' can be utilised to generate power without having an adverse impact on the environment which makes this project an eco-friendly venture. The Government has already envisioned and made blueprints to produce a total of 200-300 megawatts of power through definite power sources by the year 2020.

Therefore, as an initiative that aligns itself with the Government's vision, the project is of immense significance since it stands out as an eco-friendly venture which fuels the technological advancement whilst driving positive social change. A technology driven infrastructure project of this scale is bound to contribute enormously to uplift the lives of the local community who were battered by the war.

Even though the war came to its end in 2009, the North has not experienced a palpable economic development during the past decade with private investors showing little interest in initiating their projects in the region. In order to achieve true peace that drives social empowerment, it is of paramount importance that private organisations located in South make a conscious effort to invest in North. Therefore, the project stands out as an exemplary initiative which invites other organisations to utilise the vast resources and potential which reside in the Northern Province.

It should be noted that this is the first instance where tenders were called to build a wind power plant in Sri Lanka. This would also stand out as the first project which would be able to produce electricity to internationally accepted rates as oppose to staggeringly high rates which were charged previously.

The power plant will be able to contribute to national electricity supply by producing a unit of electricity for an average amount of Rs. 10.90 during the next20 years. This is beneficial and cost effective to CEB when compared to unit cost of about Rs. 20 spent on purchase of power from similar windpower plants that are in operation at the moment. The project which is initiated by the Ceylex Organisation will stand out as a worthy endeavour that would fuel social welfare. Deviating from unfair industry practices, Celex is focused on ensuring that people are granted the due benefits of having a cost effective power generating mechanism which has a significant impact on national economy.

Currently, the wind turbines in local wind power plants have a power capacity of 1.5 megawatts of power. However driven by state-of-the-art technology, the project would install a total of eight turbines with each power plant having a power capacity of 2.5 megawatts of power. The increase in capacity spurs efficiency through ensuring that the available land is utilised for its full potential to generate the maximum capacity of power.

Whilst the overall expenditure of the project is estimated at $ 28 million, the NDB Bank has granted a loan of Rs. 3 billion to fund the project. The remaining capital will be invested by the Ceylex Engineering Ltd. and Lanka Ventures Ltd.

The project which would conform to the European environmental standards, is driven by the expertise of local engineers and is envisioned to be integrated with the national electricity supply in mid-2019.

The landmark agreement was signed by Ceylex Engineering Ltd. Chief Executive Officer Nisal Perera and NDB Chief Executive Officer Dimantha Seneviratne.