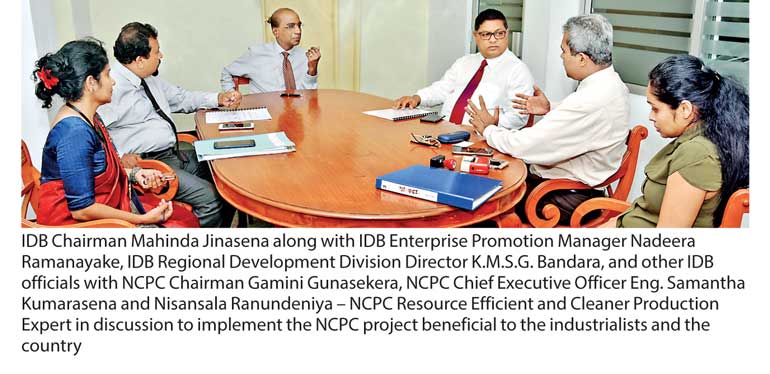 Responding to ever growing environmental concern for a greener world, the National Cleaner Production Centre (NCPC) held discussion with the Industrial Development Board (IDB) recognising the IDB's outstanding ability and capacity to promote Small and Medium Enterprises (SMEs) at the city and regional level, and last week signed and sealed a Memorandum of Understanding (MoU) under the Private-Public-Partnership program at the conclusion of successful and profitable discussion.

NCPC Chairman Gamini Gunasekera in his discussion with IDB Chairman Mahinda Jinasena, informed him the readiness of NCPC to assist IDB in conducting training programs at regional level, to Small and Medium Enterprises (SMEs) registered with the IDB, emphasising the importance of maintaining a greener world for better healthy living. Strictly adhering to the instructions, the SMEs would be able to obtain the ISO 14001 certificate issued by the SLSI.

The NCPC in a statement issued subsequently, had observed that there was a world movement showing greater interest among governments and industries to change the way of interact with the environment.

According to that statement, the focus of this movement is to reduce environmental impact from industry through changes in industrial behaviour and technology being used.

"Nowadays consumers, suppliers, governments and the market at large are increasingly demanding environment responsibility from the business community. By ignoring this trend and rejecting the opportunity to improve environmental performances they may find themselves left behind in the highly competitive global market. Therefore it is mandatory for Small and Medium Enterprises (SMEs) to minimise waster and by that reduce the impact to the environment.

"Cleaner production is a broad concept that addresses all aspects of inputs, production and outputs and defined as the continuous application of an integrated, preventive environmental strategy applied to processes, product services to increase overall efficiency and reduce risks to humans and the environment. The objective of the project is to facilitate SMEs to optimise the usage of resources through CP approaches, provide them with financial assistance to take remedial actions or preventive measures to minimise waste of resources and help them obtain ISO 14001: 2015 certification for the industry.

"The ISO 14001 specifies the requirements for an environmental management system that an organisation can use to enhance its environmental performance. It helps an organisation to achieve intended outcomes of its environmental management system, which provide value for the environment, the organisation itself and interested parties," the statement added.