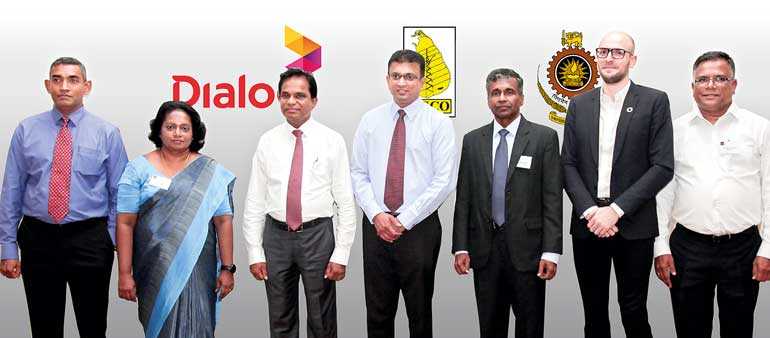 From left: Dialog Axiata Head M2M/IOT Strategy and Partner Management Dr. Indika Samarakoon, University of Moratuwa Prof. Dileeka Dias, Ministry of Power and Renewable Energy Secretary Dr. B.M.S. Batagoda, Dialog Axiata Group Chief Executive Supun Weerasinghe, LECO General Manager H.N. Gunasekara, GSMA Head of Ecosystem Accelerator and M4D Utilities Max Cuvellier, and Dialog Axiata Group Chief Technology Officer Pradeep de Almeida
---
To support prepaid electricity metering
Dialog Axiata PLC, Sri Lanka's premier connectivity provider, Lanka Electricity Company (LECO) and the Ministry of Power and Renewable Energy announced the deployment of an innovative Internet of Things (IoT) enabled smart-grid solutionto introduce prepaid electricity metering to Sri Lanka at the 'GSMA Mobile for Development Utilities Asia Industry Forum 2019'. The event was inaugurated by the Minister for Power, Energy and Business Development Ravi Karunanayake.

The solution, developed in collaboration with the Dialog Mobile Communications Research Lab at University of Moratuwa, converts a standard electronic meter into a smart meter which can maintain a prepaid wallet to facilitate prepaid electricity metering. The smart-grid solution is supported by a utility IoT and analytics platform and utility Meter Data Management (MDM) system, developed jointly by Dialog and LECO. The smart-grid solution also consists of a Network Monitoring Device (NMD) which monitors the low voltage power distribution network in real-time.

This is the first IoT enabled prepaid meter in the utility sector in Sri Lanka, where consumers will be able to reload the electricity meter as and when convenient, similar to how a prepaid mobile is reloaded, rather than having to pay a monthly bill. It is also the first IoT initiative in the utility sector where an IoT platform has the capacity to connect smart meters and Network Monitoring Devices (NMDs) to a single platform, thereby providing flexibility and scalability to LECO. Moreover, prepaid electricity metering will benefit low-income communities and will be initially available in the LECO Green Energy Zone in Kotte.

Commenting on the launch, Group Chief Innovation Officer and Chief Architect Anthony Rodrigo said, "The first of its kind in Sri Lanka, this IoT enabled smart-grid solution reiterates Dialog's commitment to enriching Sri Lankan lives and enterprises using the latest in technology and innovation. The smart meter enables users to have complete control over their electricity consumption, along with the flexibility to top-up the meter as and when they require, based on their individual or enterprise needs, resulting in a cost-effective and efficient electricity solution."

Commenting on the introduction of this solution to Sri Lankan Utilities, LECOGeneral Manager H.N. Gunasekera said, "The Sri Lankan energy sector has embarked on a mission to develop a smart grid in the country. It is envisaged that this will provide Sri Lankan electricity consumers transparent and cost-effective energy solutions. LECO is at the forefront in this mission with the objective of developing a home-grown solution for utility smart grid within their franchised areas. LECO is quite proud of the unique solution that it has developed with its local partners, Dialog and University of Moratuwa."

Ministry of Power, Energy and Business Development Secretary Dr. B.M.S Batagoda commented, "This project is the first step towards converting the Sri Lankan power sector into smart gird. Therefore, the ministry is fully supportive of this initiative since it brings technological advancements to the Sri Lankan power sector and enables Sri Lanka to move forward with the latest technologies."

Speaking of the solution, the Dean, Faculty of Engineering, University of Moratuwa, Prof.Nalin Wickramarachchi said, "This is a landmark achievement for Sri Lanka, being the first IoT-based large scale deployment in the country. It has given us first-hand experience of the complete cycle of developing and deploying a solution of this nature in partnership with the industry. The Faculty is proud to be a part of this effort, and we see this as an example of fulfilling our obligation to take new technology to society."

This initiative was partly funded by the GSMA Mobile for Development (M4D) Utility Partnership Grant.