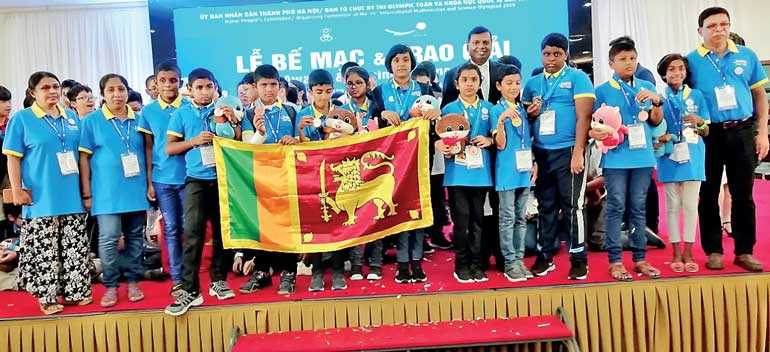 Award winning Sri Lankan medalists with Ambassador Prasanna Gamage

Award winning Sri Lankan medalists with Ambassador Prasanna Gamage
---
Twelve Sri Lankan school children under the age of 13, who participated at the 16th International Mathematics and Science Olympiad held from 27 November to 1 December in Ha Noi, Viet Nam, excelled at the competition by winning one Gold, one Silver and eight Bronze medals.

In the science competitions, Samithu Fernando of Ananda College, Colombo won a Gold Medal, and a Silver Medal was won by M. Jathurshan of Vavuniya Tamil Central College.

Tenuki Bosirini of St. Joseph's Balika, Kegalle, R.U.D.J. Dulmina of Ananda College, Colombo, Thejitha Ekanayake of Richmond College, Galle, Adithya Weerakoon of Badulla Central College and Menusa Sivakumar of Vembadi Girls High School of Jaffna won Bronze Medals in Mathematics.

Sachiru Subasinghe of Anuradhapura Central College, Ransisi Amarajeewa of Kandy Girls High School, and S Shapthaki of Rambaikulam Girls' High School of Vavuniya won Bronze Medals in Science.

Gokula Nayanajith Bandara of Maliyadewa College, Kurunegala and Zeena Nafrin of Milath Mahalir College, Kattankudy also represented Sri Lanka at Mathematics and Science competitions respectively.

M.G.S. Meedeniya, Assistant Director of Education, led the Sri Lankan team, and the students were coached by K. Bhanuguptha of Maliyadewa Girls College, Kurunegala and H.D.A. De Silva, Deputy Director of Education of North Western Province, in Mathematics and Science respectively.

Seven hundred and ninety-one children from 24 countries, including the USA, Singapore, China, Malaysia, Thailand, Indonesia, India, South Africa, Viet Nam, etc. participated at the Olympiad, which was hosted by the Government of Viet Nam.

Prasanna Gamage, Ambassador of Sri Lanka to Viet Nam, represented the Government of Sri Lanka both at the inauguration and the closing ceremony, supporting the Sri Lankan students.