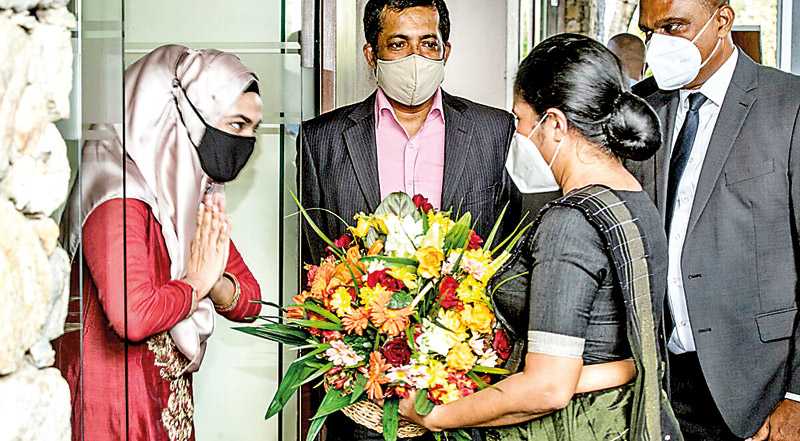 Minister of Skills Development, Vocational Education, Research and Innovation Dr. Seetha Arambepola being welcomed by students of SLTC
---
Sri Lanka's foremost institution for tertiary education in technology, Sri Lanka Technological Campus (SLTC) recently organised an award ceremony to felicitate students who performed exceptionally at the International Paper Competition – World Invention & Trade Expo (WINTEX) held in Indonesia.

The felicitation ceremony held at Waters Edge inBattaramulla was attended by Minister of Skills Development, Vocational Education, Research and Innovation Dr. Seetha Arambepola.

Five teams from the School of Engineering at SLTC secured three Gold Awards, two Silver Awards and a Special Award for Best Application of Technologyin the 'Best of the Best Award' Category at WINTEX. The five SLTC teams were adjudged winners out of over 345 submissions made by 2200 participants across 25 countries. The five teams comprised undergraduate and postgraduate students at SLTC.

The team of Sadev Kalubowila, mentored by Upeksha Chathurani, Lecturer, SLTC won a Silver Award for Ayu+, a symptom analysing application to assess health via visible physical signs while another Silver Award was bagged by Hassan Hydher and team for project to provide uninterrupted cellular coverage via UAV in the event of dysfunction of terrestrial towers. This project was supervised by Prof. Dush Nalin Jayakody, Head of the School of Postgraduate Studies and Research (SPSR)

Lakdinu Ekanayake and Ben Roshnan won Gold for their solution for optimising signal quality, strength and usability notwithstanding proximity based on Norma concept under 5G while Vishalya Sooriyarachchi and team won another Gold for 'Charging Centres' utilising excess energy in the power grid. They were supervised by Prof. Dush Nalin Jayakody, SLTC, Dr. Nikhil Sharma, India and Dr. Amila Vayangani, Senior Lecturer SLTC, Dr. Nilantha Sapumanage, Public Utilities Commission Sri Lanka.

Fathima Minza Ifrath and team not only won Gold but also the Best Application of Technology Award for proposed cost-effective, real-time smart logistic solution based on narrow-band IoT which was commended for contextual relevancy during the pandemic.This project was supervised by Amila Saputhanthri, Dialog Axiata PLC.

Conducted fully virtually, WINTEX was held in conjunction with Indonesia Inventors' Day (IID) organised by the Indonesia Inventions & Innovation Promotion Association (INNOPA) under the theme 'Ideas Meet People'. SLTC participation in WINTE X was coordinated by the Technology and Innovation Support Centre (TISC) and student preparation to the competition was made by the School of Postgraduate Studies and Research (SPSR).

SLTC Founder President/CEO Eng. Ranjith Rubasinghe commented: "SLTC is extremely proud of the performance of post & undergraduate students. We are thrilled to produce the next generation of innovators that will serve to uplift & uphold Sri Lanka as a STEM hub in the region as envisioned by the leadership."

He further opined that proposed projects having relevancy to the present context is proof of the educational culture at SLTC: Agility, adaptability and practicality beyond theoretical knowledge.

A fully owned subsidiary of Sri Lanka Telecom, SLTC founded in 2015 is a degree awarding institution accredited by the Ministry of Higher Education and recognised by the University Grants Commission offering undergraduate and postgraduate courses in areas of Engineering, Technology, Computing, Business and Music. The Colombo Campus of SLTC is situated in Colombo 7 while the main university is located at the former Satellite Earth Station premises in Padukka.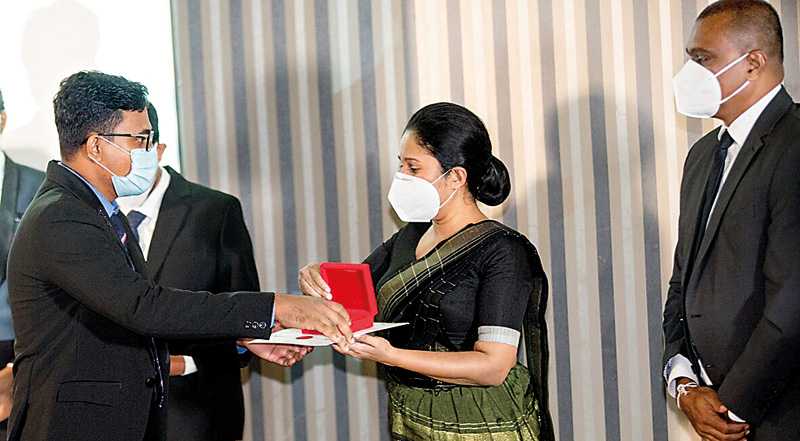 Minister of Skills Development, Vocational Education, Research and Innovation Dr. Seetha Arambepola presenting the team of Sadev Kalubowila their Silver Award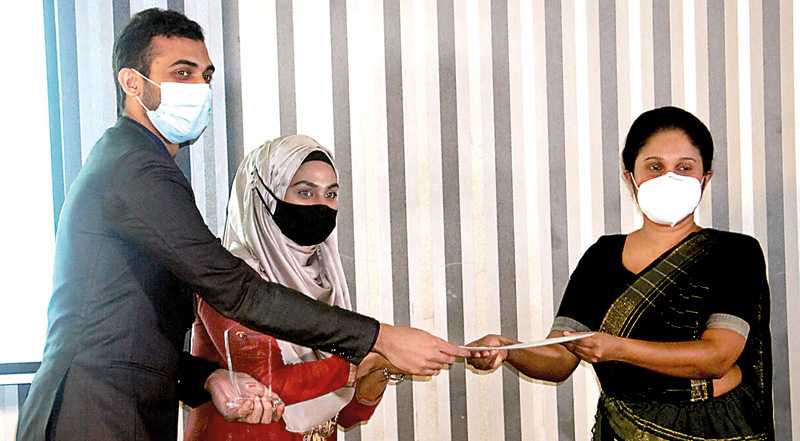 Minister of Skills Development, Vocational Education, Research and Innovation Dr. Seetha Arambepola presenting Fathima Minza Ifrath and team with the Gold Award

The winning teams of SLTC
---