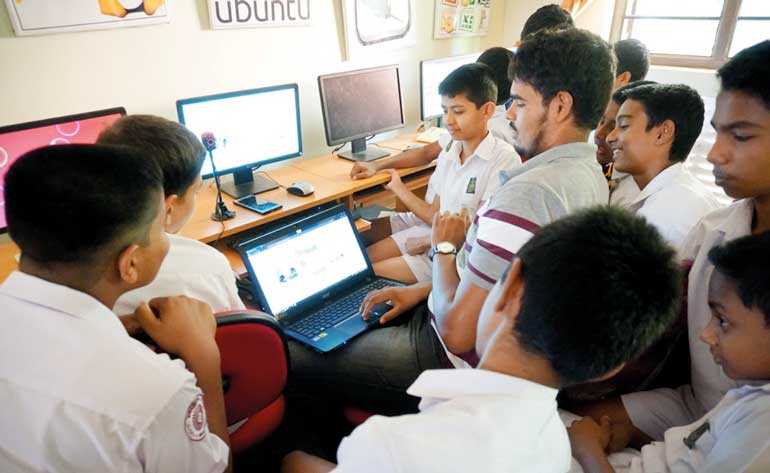 MillenniumIT ESP partnering STEMUp Educational Foundation held the first 'Machine Learning for Kids' workshop at Vidyaloka Central College – Balangoda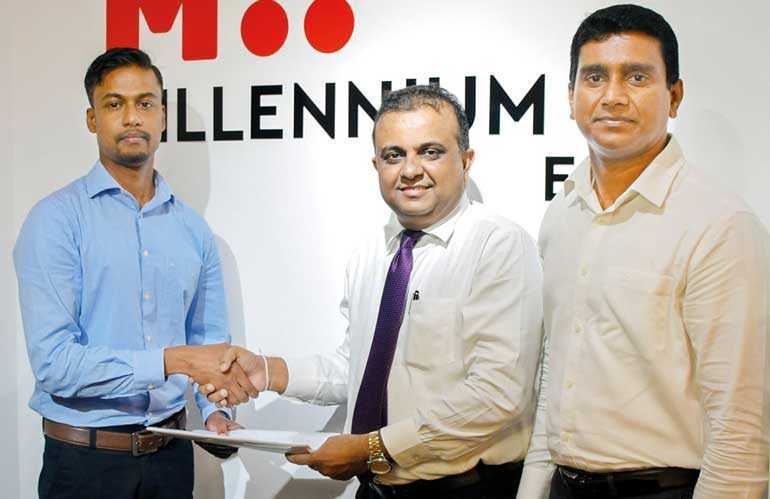 From left: STEMUp Educational Foundation Director Indika Dalugama exchanging partnership with MillenniumIT ESP Director/Chief Operating Officer and Ambeon Holdings Chief Investments and Process Officer Dr. Sajeeva Narangoda and Sanjaya Dayananda Head of Business Applications Sanjaya Dayananda

'Train the trainer' workshop at Millennium IT ESP
Machine Learning for Kids – An initiative between MillenniumIT ESP and STEMUp
Introducing machine learning and Artificial Intelligence (AI) capacity building movement at national level
MillenniumIT ESP – Sri Lanka's leading Systems Integrator and Information Systems Provider – partnered as an industry advisor with STEMUp, a not-for-profit organisation with the objective of inspiring and engaging local students to become interested and opt to pursue degrees and careers in Science, Technology, Engineering and Mathematics (STEM) fields in order to support their newest mission of democratising the knowledge and technology access of Artificial Intelligence (AI) to every student in the island.

The STEMUp Educational Foundation supports the view that STEM literacy is a foundation skill that matters for all careers, by building critical thinking abilities, creativity and collaboration skills. Gaining STEM proficiency provides the basis for these skills and builds the flexibility to adapt quickly to frequent changes in any labour market whether local or international.

The STEMUp Educational Foundation runs several educational initiatives to get local students interested in STEM during early stages in their education journey.

The Foundation was incorporated in 2016 and officially launched operations in March. STEMUp is a volunteer base operation consisting of several programs such as Micro:bit SLUG, CoderDojo Sri Lanka, Raspberry Jam, and STEM Ambassadors, and subsequently each program has their own subprojects.

So far, they have succeeded to influence the government educational authorities to introduce IoT into the local schools' curriculum in grades 8 and 9. STEMUp has identified scarcity of local STEM resources to meet the current industry demand.

As such, they create awareness towards the wider public on the importance of STEM skills by organising National Hackathons, providing video tutorials, undertaking teacher and volunteer trainings, and through other forms of awareness sessions. Currently they have over 500 registered volunteers.

Their latest project titled 'Poddanta Machine Learning' or otherwise 'Machine Learning for Kids' was initiated as research undertaken by the Foundation indicated that children in the rural areas of Sri Lanka have zero to minimal knowledge on new emerging technologies such as AI.

In addition, the current local education system is not structured to train students' minds to be creative and think out-of-the box. Through the all new STEMUp systems, students will be given the opportunity to understand real life scenarios and solve community and business problems using technologies such as AI.

Lastly, with AI undoubtedly becoming the biggest technological revolution in the world, Sri Lanka's next generation needs to be prepared and well poised to support the country's future in terms of innovations, start-ups and economic growth.

"Today's local students need to learn to compete in the global economy. With the world of business constantly changing and shifting, STEM skills are becoming more and more valuable in the workforce than ever before. The STEMUp Educational Foundation is trying to get more Sri Lankan students interested in STEM in early ages through innovative programs such as 'Poddanta Machine Learning'," said STEMUp Educational Foundation Director Prabhath Mannapperuma.

MillenniumIT ESP is one of Sri Lanka's leading information system solutions providers delivering IT solutions across various industries; including banking and finance, telecommunications, manufacturing, leisure and leading conglomerates.

"With decades of experience and expertise in technology, innovation, adaptation and transformation, MillenniumIT ESP is ready to face emerging trends through new age technologies such as AI and Internet of Things (IoT), in order to meet evolving needs and drive sustainable and profitable business outcomes, enabling and facilitating transformation for our customers," commented MillenniumIT ESP Director/Chief Operating Officer Dr. Sajeeva Narangoda.

"Partnering with STEMUp is our way of contributing towards Sri Lanka's development and the country's generation, enabling them to be future proof and ready for the dynamics of tomorrow," he added.

The new initiative between STEMUp and MillenniumIT ESP, Machine Learning for Kids, is a knowledge sharing community project where industry and subject matter experts from MillenniumIT ESP will conduct workshops for university students and thereafter expanding to schools through the train the trainer model. The whole purpose of these workshops will be to share knowledge and experience as well as provide 'hands on' lab sessions on real world use cases for AI.

"Machine learning is all around us. We all use machine learning systems every day. As such, it's imperative that children understand how our world works when they come of an appropriate age to learn. The best way for kids to understand the capabilities and implications of machine learning is to be able to use and build systems with this technology themselves," said STEMUp Educational Foundation Director Indika Dalugama.

Further, MillenniumIT ESP will be the main industry advisor working with the STEMUp Educational Foundation on the AI knowledge democratising project. The company will be contributing to this project through the initiation of workshops for students across the island, from grade 6 onwards.

As a result, MillenniumIT ESP will be interacting with numerous students from schools and universities across Sri Lanka as well as organising several hackathons in partnership with the STEMUp Educational Foundation to provide a more practical education to university students. So far, the already trained university volunteers have initiated the AI Program, commencing from rural schools in the Balangoda area.

"Today, enterprises all around the world are fast adapting to emerging technologies such as Artificial Intelligence, Machine Learning and Block Chain to conduct businesses in innovative and efficient manners. Whilst we're proud of the Sri Lankan IT skills and their standard of quality, we still struggle to be in par with those global technology adaptation trends. This is due to the inadequate number of IT professionals that have been produced by the private and government owned universities in Sri Lanka.

"As such, the STEMUp Educational Foundation has taken the initiative to address the scarcity of STEM resources in the market and they have built enough capacity to tackle this issue through various innovative methods that are highly commendable and in need of the hour. As a leading and responsible player in the Sri Lankan IT industry, we at MillenniumIT ESP are excited to join hands with STEMUp for this worthy cause and we wish them great success," said MillenniumIT ESP Head of Business Applications Sanjaya Dayananda.

MillenniumIT ESP is a subsidiary of Ambeon Holdings PLC, a medium-sized conglomerate reputed for its market dominance in the areas of financial services, manufacturing, real estate, technology and strategic investments.

"MillenniumIT ESP is a company that believes in serving customers and partners better with a strengthened purpose and strategy as the agile creator," stated MillenniumIT ESP Director and Ambeon Group Managing Director/CEO Murali Prakash.

"In line with its purpose, the company is in search for ways of giving back to the society and contributing towards the betterment of the various communities and the country at large. This partnership with STEMUp is just one of many initiatives that the company is spearheading. With an expanded range of solutions, premier technology and innovation platforms along with the required resources MillenniumIT ESP will continue to commence new ventures of this nature; projects that undoubtedly will benefit our communities in the markets the company operates in," Prakash concluded.