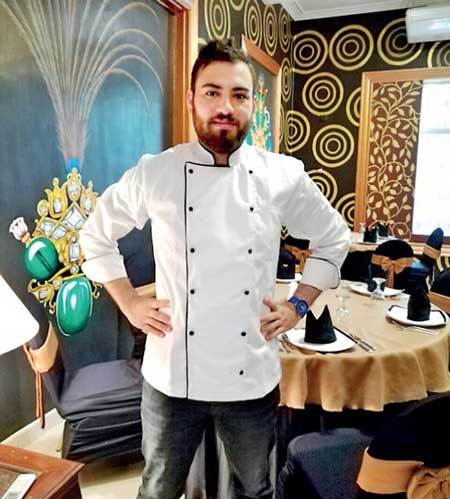 Ankara introduces new chef and new menu
With the mention of the word Ankara, comes flashbacks of all the old tales of Constantinople, as the city was known then, and visions of the metropolitan capital of Turkey, its unique architecture and culture. The city of Ankara itself has a rich cultural heritage that has spread its influence into various aspects, shaping Turkish architecture, style, and food into being unique and world renowned.

In Sri Lanka, 'Ankara' is the latest and only restaurant serving up authentic Turkish food. The restaurant, down Milagiriya Avenue, Colombo 4 has been around only for a few months but is constantly innovating and upgrading its menu to give Sri Lankans a taste of world famous Turkish cuisine. Recently, Ankara introduced a brand-new menu with their Chef Mehmet Yasar Orgut.

The menu at Ankara draws from both classical and contemporary Turkish fare inspired by Central Asian, Middle Eastern, and Balkan cuisines. "The people in Colombo are interested in trying out different types of cuisines. Turkish cuisine is not completely alien to Sri Lankans as it has many elements that would suit the Sri Lankan palate," the Ambassador of the Turkish Embassy in Colombo had to say, on the day of the opening of the restaurant.

With all the best herbs spices imported directly from Turkey, Ankara strives to give a truly authentic experience to its guests. The restaurant's personal favourites on the new menu are the variety of grilled meats and breads. One of the restaurant's main policies is that they only serve lamb, seafood, chicken – no beef or pork, out of respect for traditions of the different communities in Sri Lanka. The restaurant has also made a name for their excellent soups and delicious vegetarian options. Apart from these, the restaurant also offers special Turkish mixed ice cream, Turkish coffee and Turkish tea with the ever so popular Turkish sweet, Baklava for a complete meal – afiyet olsun!

Ankara is located in the heart of Colombo city and is a converted heritage house, still in its original form with the only changes made being the interiors and touch ups to display Turkish elements and create a Turkish ambience and feel for the guests. The restaurant offers eight different dining experiences and can host over seventy guests per seating. They also have a banquet hall with seating capacity for around 100 guests, going to show that the restaurant is ready to provide high quality service to all its guests. For more information and to make reservations at Ankara, please contact 0112 123456.