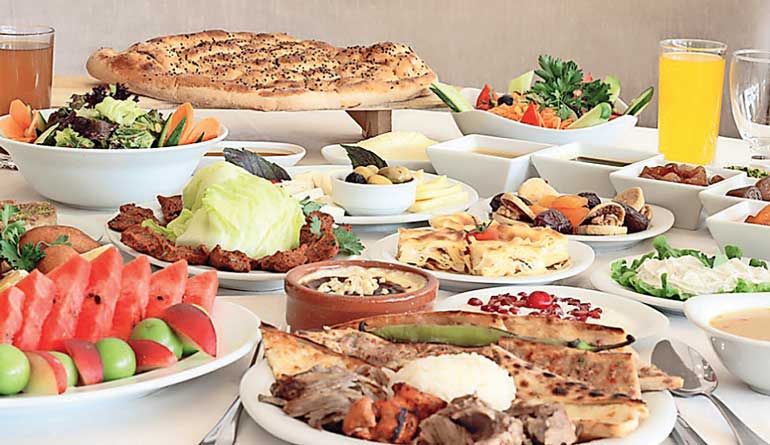 During this holy month of Ramazan, premier five-star urban resort Cinnamon Lakeside has introduced a special Ifthar Buffet for those observing.

Priced at Rs. 2,650 nett, the month-long promotion will be on from 6 p.m. to 8 p.m., starting 27 May, at the hotel's main restaurant, The Dining Room.

The menu includes the customary dates and figs, faluda, chicken, beef and plain kanji, fresh juice (papaya, sweet melon, mixed fruit), freshly cut fruits and mutton and vegetable samosas. The likes of lamb kofta, tuna puff and Arabic cold mezze are also part of the buffet offering.

An action station producing a la minute chicken or lamb shawarma and falafel sandwiches will be erected at The Dining Room. Arabic favourites such as hummus, mutable, tabbouleh, babaganoush, pitta bread and Arabic salad – all freshly made will be laid out as well.

From the hot buffet, one can expect chicken and mutton biriyani, kabsa rice, tandoori fish, butter chicken masala, mutton rogan josh, butter naan, tandoori naan aloo parata, pavobaji and pavbhaji.

Arabic desserts and sweets such as um ali, tumur bel nargine, sekanjabin, marmul, vanilla custard, phirni, shalab, mahalabiya, balaheshram and basbousa are part of the menu.

Ideal for families or client hosting, the Ifthar Buffet will change its dishes daily so as to ensure that repeat customers will have variety when dining at Cinnamon Lakeside.

For reservations, call 0112491930.

Follow the hotel on Facebook for more promotions at www.facebook.com/cinnamonlakeside.