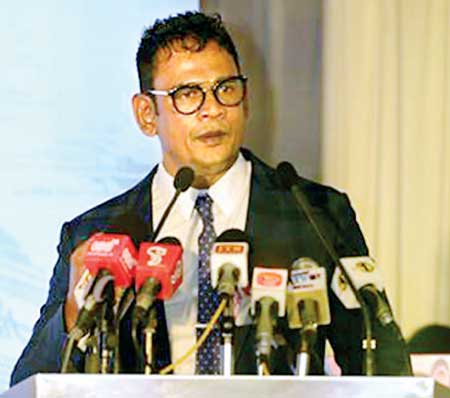 Richy Tea aims to revolutionise the tea industry with the launch of its new tea dispenser. Said device will dispense export quality tea (unique to our motherland) thereby delivering an enhanced tea-drinking experience. The tea industry consists of 28 grades of tea. Richy tea through its introduction of the dispenser makes eight speciality tea grades available to their customers. The tea dispenser is to be formally launched Tuesday, 1 August at Waters Edge, Battaramulla.

Richy Tea currently boasts over 25 years of industry experience, sourcing its teas from Sri Lanka's best quality tea estates and some of Sri Lanka's best tea auctions. The company now stands as Sri Lanka's largest bulk tea distributor.

Richy Group Chairman and Managing Director Wirantha Hettiarachchi stated: "Much of Sri Lanka's premium tea varieties are not made available for local purchase. Richy Tea's all-new dispenser enables the local market to experience the internationally renowned fine taste of original Ceylon tea. The tea dispenser will be made available at exclusive modern trade outlets and Richy dealership stores, free of charge, to host a range of premium tea categories distinct to Sri Lanka."

In celebration of its 25 year anniversary and the 150 year anniversary of Sri Lankan tea, Richy Tea further unveils its 'Anniversary Blend' pack. Said product consists of a rare tea blend made up of leaves from three unique geographical locations, each with a unique climate and elevation. The leaves are also sourced from selected auctions under the supervision of experienced senior tea tasters. Richy Tea announces that same blend will be further available as a tin container pack. Richy Tea also hopes introduce another introductory product: 'Trailblazer', made from FBOPFEXSP Special tea unique only to Sri Lanka.

To mark its 25 year anniversary RichyTea will also hold bi-annual raffle draws this year. The first raffle draw was held on 29 June with the second draw set to take place in December 2017 and consumers can be a part of the raffle draw by submitting the serial number found in the sticker attached to any Richy Tea pack via SMS. The grand prize of the raffle draw is a brand new Renault KWID with cash prizes of Rs. 100, 000, Rs. 75, 000 and Rs. 50,000 for second and third place winners with the most number of SMS respectively. The draw will also provide 50 consolation prizes of Rs. 10,000. The second draw; the grand finale offers a grand prize of a brand new Renault KWID. Richy Group Chairman wishes to thank all raffle draw participants for the support shown towards the campaign.