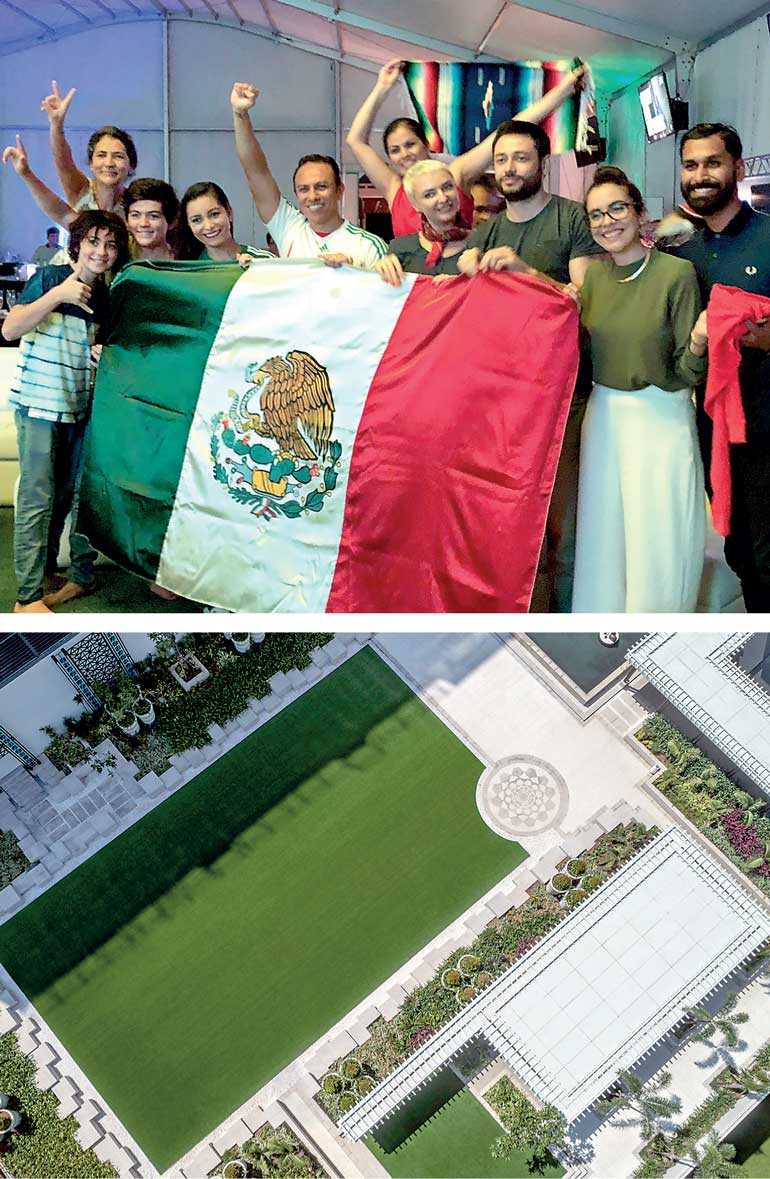 Catch the action at the biggest venue in the city on the biggest screen, as you revel in an unbeatable atmosphere at the elevated lawn with marquee
The World Cup is a celebration, and an occasion where the world stands still every four years for one whole month where everlasting moments are created and for most footballers, it is an opportunity to become immortal in the face of the beautiful game. These moments are delivered to the world in a number of ways, from a last gasp goal during extra-time, spectacular shots that defy the laws of physics, crunching tackles and the colossal support in numbers from both inside and outside the action packed stadiums.

In Sri Lanka, that action can be best experienced at Shangri-La Hotel, Colombo's outdoor lawn with a marquee, where you can be a part of every thrill and celebration, while the festive ambience that will keep you going through the night.

Great deals on food and beverage await. Cheer your favourites on as you choose from dishes that originate from the different playing nations. Try the Glory to Portugal, peri peri chicken wings marinated to perfection or the Mariachi Mexico of nachos loaded with delicious minced chicken, cheese and gaucomale. Fans will love the Be Brave Be Bold Aussies, a scrumptious Beef burger and of course inhonour of the host country, From Love with Russia a flavourful Lamb Shashlik dish.

The Kid's Zone will have the families coming back here game after game. A mini football pitch is the highlight where kids will reveal their very own super star scoring abilities. A special kids menu will keep tummies full.

A host of prizes and surprises await including return air tickers, stays at other Shangri-La resorts and Hotels around the world and food and beverage vouchers that can be redeemed at the World Cup Fan Fest.

As the most watched game, the World Cup is where thousands of passionate football fans from across the global connect. The World Cup Fan Fest at Shangri-La Hotel, Colombo will be sure to bring together fans from around the world, in an unbeatable atmosphere.

Shangri-la Hotel, Colombo is a lifestyle destination in itself, offers a fantastic line up of live entertainment by evening, an elevated swimming pool with stunning views over the Indian Ocean, a serene atmosphere to relax at CHI, The Spa and a 24-hour Health Club.

Hong Kong-based Shangri-La Hotels and Resorts currently operates over 100 hotels with a room inventory of over 41,000. Shangri-La hotels are five-star deluxe properties featuring extensive luxury facilities and services. Shangri-La hotels are located in Australia, Canada, mainland China, Fiji, France, Hong Kong, India, Indonesia, Japan, Malaysia, Maldives, Mauritius, Mongolia, Myanmar, Philippines, Qatar, Singapore, Sri Lanka, Sultanate of Oman, Taiwan, Thailand, Turkey, the United Arab Emirates and the United Kingdom. The group has a substantial development pipeline with upcoming projects in Australia, Bahrain, mainland China, Cambodia, Indonesia, Malaysia and Saudi Arabia. For more information, please visit www.shangri-la.com.