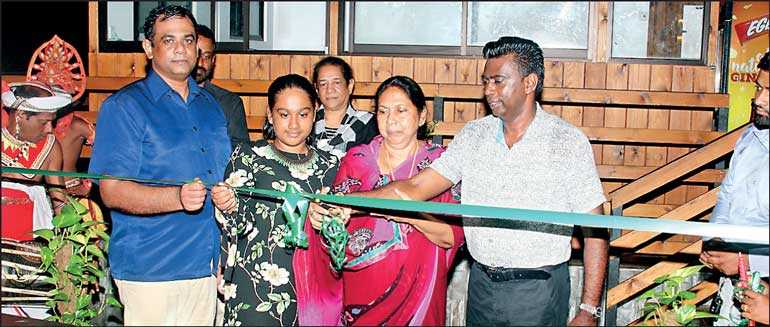 ---
Wasana Nature Resort and Restaurant which was established as an eco-friendly tourism retreat spanning a picturesque five-acre landscape, with the view of offering another unique experience has opened a restaurant with all facilities on an islet.

The restaurant which was opened in a bid to further expand the Wasana Nature Resort and Restaurant has the ability to provide on order not only Sri Lankan cuisine but also food of any country within a short period of time.

"We opened this tourist attraction to provide our customer delicious food in an enthralling environment to obtain an unforgettable experience," Wasana Nature Resort and Restaurant Managing Director Sampath Indika Merenchige said.

Wasana Nature which is a subsidiary of Wasana Nature Resort and Restaurant Trading Lanka Ltd. has been built as a100% eco-friendly paradise. From Colombo it is less than a 20-minute journey to the location and most precious unforgettable moments such weddings and birthdays could be celebrated with the best of hospitality at the venue.

"With the addition of the unique restaurant situated on an islet, the Wasana Nature Resort has accomplished a unique feat that other hotels cannot boast of," said Merenchige. He added that more such innovative nature friendly additions were in the pipeline in the future. More details could also be obtained in this regard from the website www.wasananature.lk and by dialing 017664664.

For those who wish to spend a pleasant holyday at Wasana Nature Resort and Restaurant, it offers two cabanas which can accommodate four guests each. There are also five halls with and without A/C for guests to dine and wine and hold banquet parties according to their choice.

One of the most astonishing features of the property is the stream running around it adding more glamour to guests who get the opportunity to sail in boats. A fully-fledged Ayurveda Centre too has been opened for the convenience of tourist at the venue. The huge water tank in the five-acre land of Wasana Nature Resort and Restaurant too adds splendor and beauty to the facility. A blend of expert local and foreign chefs has been deployed by the restaurant which gives priority to Italian and Chinese cuisine, the management said.