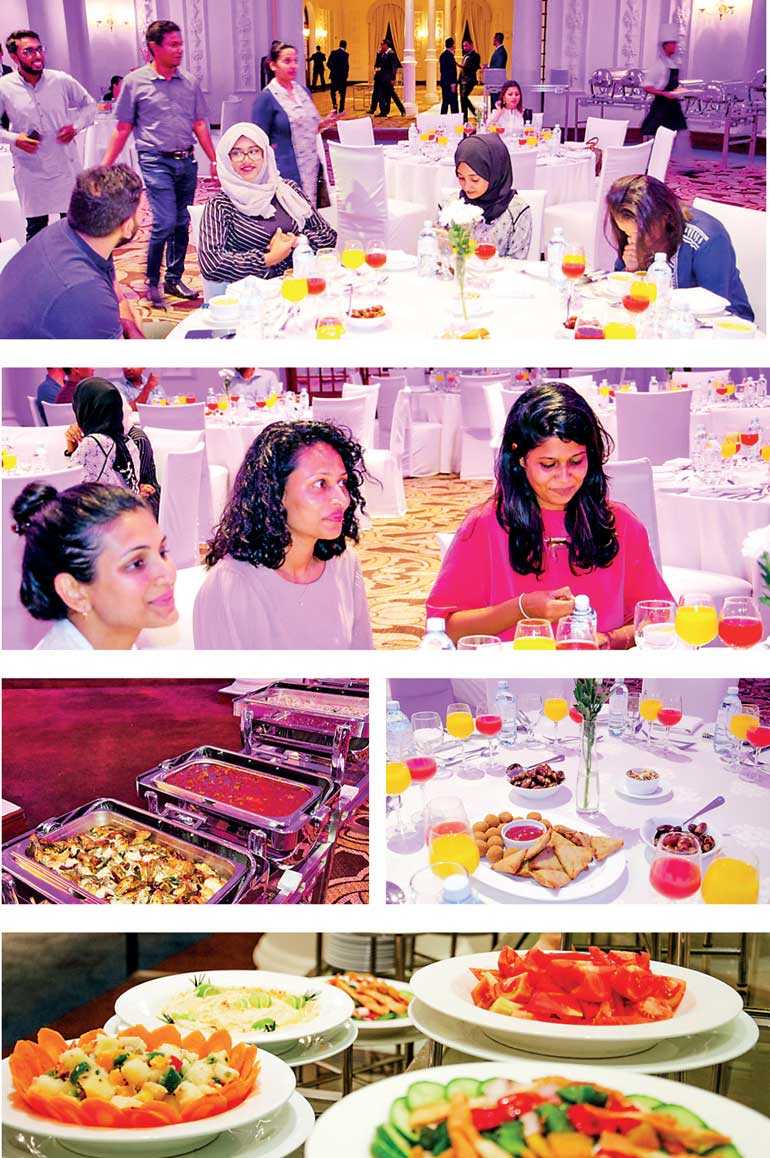 The Galle Face Hotel together with Cyaniq.social hosted an ifthar dining event on 1 June. The dining event was attended by over 70 invitees from the community, industries and the media, coming together to break fast with friends and families.

The dining event launches the curated ifthar menu made available for corporate entities at a special rate during the season of fasting. The Galle face Hotel has a longstanding history in the island during which time the property has continued to ensure cohesive coexistence with patrons from all communities and all Sri Lankans. The ifthar dining event and menu is yet another move in the direction of assuring commitment towards community and harmony on the part of the property and its management.

The ifthar menu is classified into two broad categories with the "Ifthar Buffet Menu" taking centre-stage alongside a curated "Ifthar Biryani Menu." The buffet menu features a number of mainstay favourites including chickpea hummus, baba ganoush, pita bread, mutton korma, roast chicken, thyme baked fish and watalappam. The Biryani menu, a new introduction to the season's dining options will see a tantalising serving of biryani accompanied by chicken korma, fried and cooked eggplant, cucumber raita, malay pickle, mint and coriander chutney and other condiments, followed by desserts including date pudding.

Both menus will be followed by a traditional ifthar spread for breaking fast consisted of dates, fruits, vegetable samosas and chicken rolls. The extensive spread is expected to attract corporate interest and position the Galle Face Hotel as the dining option of choice as it is an easy access to all employed in and around Colombo during the holy month.

Group Director of Sales and Marketing Mubarak Gaffoor mentioned, "It is an absolute pleasure to have an opportunity to celebrate ifthar with our partners and friends of the hotel. This celebration gives us an opportunity to appreciate what we have and also enjoy time spent with our loved ones. We encourage organisations to strengthen their relationships with their employees by offering them this delectable ifthar menu. With a venue that offers timeless grandeur, it will make every moment that much memorable."

Cyaniq.social was involved in organising this celebration and partnered with the Galle Face Hotel in hosting the ifthar dining event. "We love working with the Galle Face Hotel and this event is no different. The value proposition of the hotel is unparalleled and dining events especially are something to look forward to. We wish the management the very best with the ifthar menu this season," commented Cyaniq.social Founder Dilshan Senaratne.

For more information on the ifthar menu and to make a banquet booking, please contact 077-0602680 or 0112541010. E-mail on samadi.athukorala@gallefacehotel.net.