---
One of Sri Lanka's most celebrated resorts on the southern coast, The Fortress Resort & Spa held aloft the hospitality industry's most prestigious food and beverage laurel by winning the Bocuse d'Or Sri Lanka 2019. This is the second time The Fortress Resort and Spa has won this prestigious award, first been in 2015.

With a team of chefs now in preparation to compete at the next level of the competition, the Bocuse d'Or South East Asia to be held in China in 2020. Having competed against teams of highly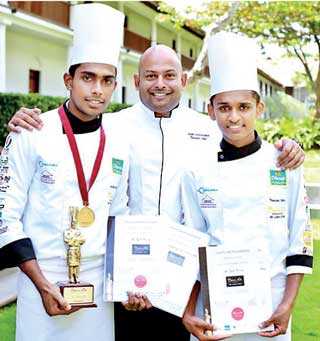 experienced and renowned chefs from across the country's most distinguished five star hotels and resorts and under the guidance of the Executive Chef Asanka Wickramasinghe winner of the Bocuse d'Or 2015 and 5th place in the Bocuse d'Or South East Asia, Chef Hasitha Chathuranga and his Commis Tharusha Dilshan defeated no less than 22 competitors to emerge champions at this revolutionary competition in gastronomy innovated mooted by French chef Paul Bocuse.

Invented in 1987, the Bocuse d'Or is held once every two years and brings together 24 competitors at the grand finale, which last year was won by Norway, the USA and Sweden respectively in the Gold, Silver and Bronze categories. It is based using codes of the biggest sporting events and promises a spectacular symphony of performances that only chefs of a very high calibre can perform. The Grand Finale of the Bocuse d'Or in 2021 will be held in Lyon, France and will bring together the winners of the continental selections including the Bocuse d'Or Asia that the Fortress team will be competing in.

Taking the spirit of the Bocuse d'Or as Paul Bocuse created it in, when he said, "...It's about movement and creativity, the perfection of the right gesture and technical excellence and the passion for his art," Chef Hasitha and Trainee Commis Tharusha created a combination of main courses that was surely an epicurean delight. The jury, whose marking was based on the international Bocuse d'Or criteria were treated to Barramundi & Prawn Serving and Tea inspired Beef and Foie Gras with a Dilmah Berry Sensation Tea reduction.

The Bocus d'Or Sri Lanka, held in association with Sri Lanka Tourism and the CHSGA is a platform that allows chefs to be as inventive, creative and artistic as they can be, encouraging them to innovate and be emulated, given the constantly evolving and discerning hospitality industry they work in.

Each continental competition is judged by a jury of illustrious chefs who ultimately make the choice for the finalists to participate in the show of shows, the Grand Finale of the Bocuse d'Or and is one in which the winning chefs wear the crowns of recognition, prestige and fame.