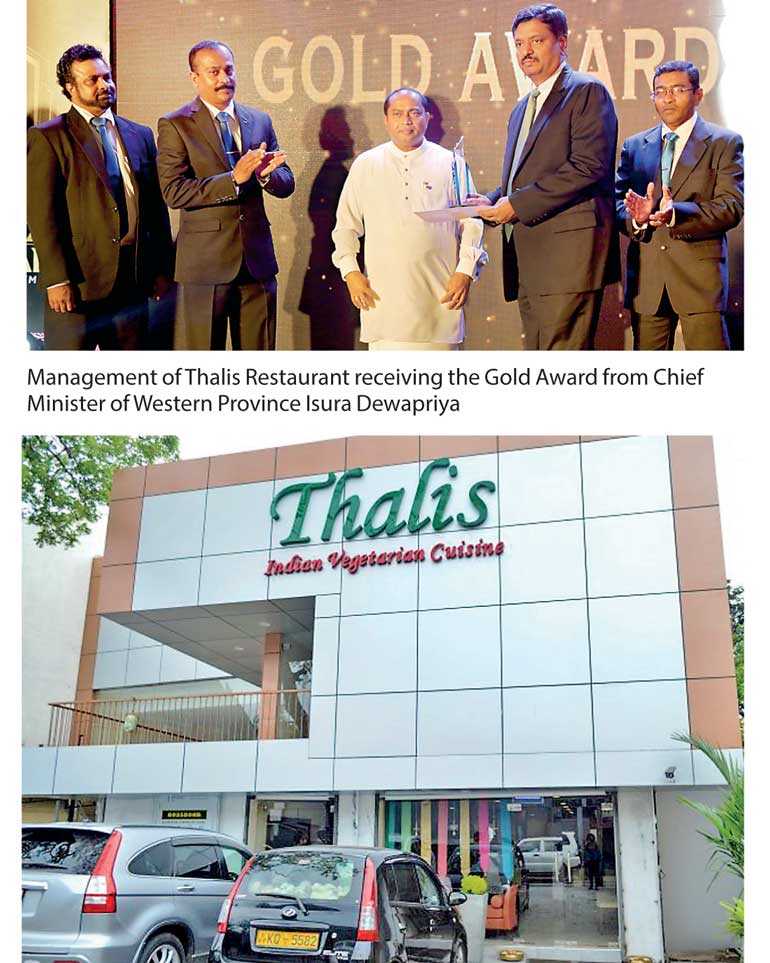 Acclaimed for serving exquisite Indian cuisine, Thalis Resturant in Colombo was honoured with a Gold award at the recent Tourism Awards 2018 organised by the Western Province Tourism Board. The Chief Guest for the event Chief Minister of the Western Province Isura Devapriya presented the award at a gala ceremony held at Colombo's Kingsbury Hotel.

Located at 155 Park Road, Thalis Restaurant offers all guests superior Indian culinary flavours in a colourful and relaxed setting. For all visitors seeking Indian delights, Thalis serves both North Indian and South Indian cuisine, and is open 365 days of the year from 11 a.m. to 11 p.m. daily. Even on holidays such as Sinhala and Tamil New Year, Poya days, Deepavali, Thaipongal, Christmas and even on Ramazan the restaurant remains open for all patrons. Serving pure vegetarian food, Thalis caters to the taste buds of all vegetarians and non vegetarians also can enjoy these delicious menus. Especially suited to guests who do not consume meat or fish, the restaurant is the ideal venue for a delicious meal.

The North and South Indian flavours are prepared by Indian Chefs using their culinary skills. In addition, every poya from 11 a.m. to 3 p.m. Thalis Restaurant offers an excellent and delightful buffet which includes classic North and South Indian cuisine. Moreover, children under eight years can enjoy the buffet absolutely free of change. Catering to those with a sweet-tooth, Thalis Restaurant also serves a potpourri of Indian sweets and popular chaats. On week days between 3:30 p.m. and 6 p.m. during the evenings, visitors to the restaurant can indulge in their Indian sweetmeat cravings. Launched nearly two and half years ago as a BOI project, Thalis has the capacity to accommodate over 150 diners in one sitting. The restaurant also has a meeting room if visitors require such a space. Thalis Restaurant caters for home and office functions and any other celebratory event. Further details can be obtained by contacting 0112568000, 0112507788.