Café chain also gives back to coffee farmers in the spirit of Christmas
It's beginning to look a lot like Christmas in Colombo with the weather changing to a chill in the air and the lights coming out across the city. It is also beginning to smell a lot like Christmas as homes, hotels and cafés strewn across the city and beyond getting on with the baking and making of traditional Christmas goodies.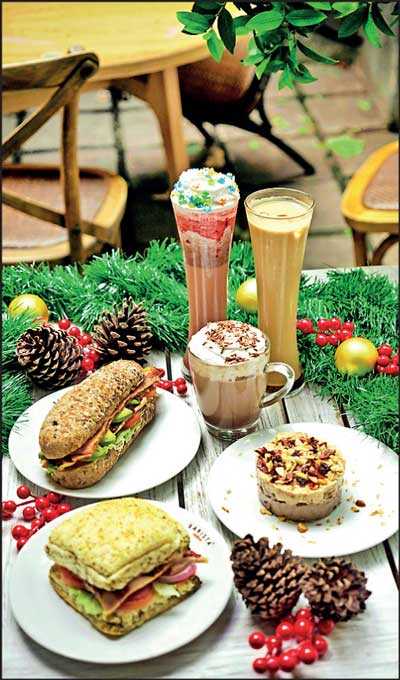 The Christmas Specials range at Barista


One of Colombo's leading coffee house chain Barista is also busy putting together an array of Christmas goodies for the season. On the top of the list is a signature beverage designed by the brew masters at Barista using authentic Sri Lankan coffee. The 'Kiri Kopi' is a distinct twist on a Sri Lankan favourite and will be sold at Rs. 350. Barista's sister establishment the Colombo Coffee Company has for more than a decade been involved in the Toscana Ceylon Project that works to enhance the livelihoods of Sri Lankan coffee farmers. Toscana Ceylon Coffee is 100% grown and processed in Sri Lanka by coffee farmers and their families. This year, every purchase of the 'Kiri Kopi' will ensure that Rs. 100 is allocated to a fund that will purchase gifts for coffee farmers and their families, and school supplies for children of these families for the season. The gift packs with be purchased from another recognised charity, the Foundation of Goodness (FoG), further helping another Sri Lankan community sponsored by FoG.

The special Christmas menu at Barista outlets will also include a range of new beverages like a Ho Ho Ho-t Chocolate, a Jingle Latte and a Christmas Frappe to tingle those taste buds. As if that wasn't enough, Barista's also got mouth-watering Honey Ham and Bacon Sandwiches, a Turkey Club Sandwich, Turkey and Cranberry Sandwiches, and even a Cranberry and Almond Pudding to put everyone in the Christmas spirit with every bite.

The Christmas specials will be available at all Barista outlets and the signature Caramel Pumpkin café from 1 December onwards.