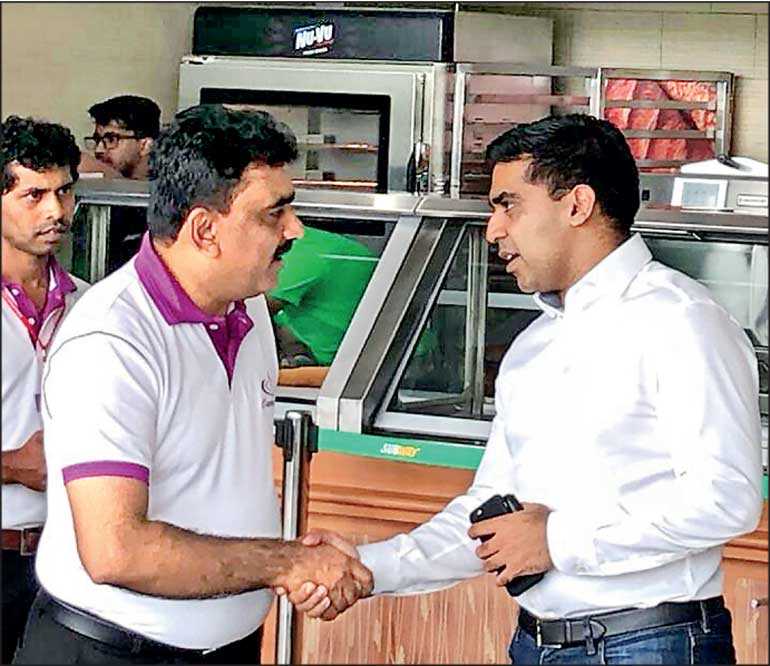 Canowin Hotels & Spas Manager Special Projects Ruwan Lankeshwara (left) with Subway Master Franchisee for Sri Lanka Savanth Sebastian
---
Subway, the world's largest submarine sandwich restaurant chain inaugurated its fifth and sixth restaurant together on Side A and B of Canowin Arcade – Southern Expressway in partnership with Canowin Hotels & Spas on 1 June.
Subway is a purveyor of fresh and delectable submarine sandwiches (subs) and salads, Subway currently has more than 44,000 restaurants operating in 112 countries.

Commenting on this development, Canowin Hotels & Spas Manager Special Projects Ruwan Lankeshwara said: "We are very excited at the prospect of serving the customers through the new Subway restaurant. We believe Subway's assorted menu and great service would definitely enhance the eating-out experience of the customers."

Subway forayed into Sri Lanka in August 2014, having opened its first restaurant at Duplication Road Colombo 3, which will be celebrating its fifth anniversary this August. The brand is now looking forward to delight those who walk into Canowin Arcade, Southern Expressway through its healthy, fresh and delectable menu offerings since 1 June.

The new Subway restaurant at Canowin Arcade features facilities like convenient parking, dine-in and takeaway options, coupled with tasty and filling meal-options which are served fresh.

The new location will give the local and international travelers an opportunity to taste fresh and healthy meals from Subway.

The restaurant at Canowin Arcade will serve breakfast, lunch and dinner throughout the week. Customers will also be able to order Subway's signature platters and catering services here.

Globally, Subway is known for its varied menu choices and customisation. The brand also takes care to innovate and introduce new products which suit the local palate. Subway's low-fat subs and salads are crafted by Subway's efficient sandwich artists, right in front of the customers as per their preference and choice.

Using a variety of gourmet breads, fresh veggies, cheese, lean-meats, and condiments topped with scrumptious sauces, customers can relish their subs exactly as they like.

Customers can choose from a wide range of subs, salads and wraps including Subway's cookies which are loved by Subway customers, the world over. Additionally, the brand's popular value offerings (Every Day Value Combos) provide the customers a great opportunity to enjoy and experiment Subway's flavourful offerings.