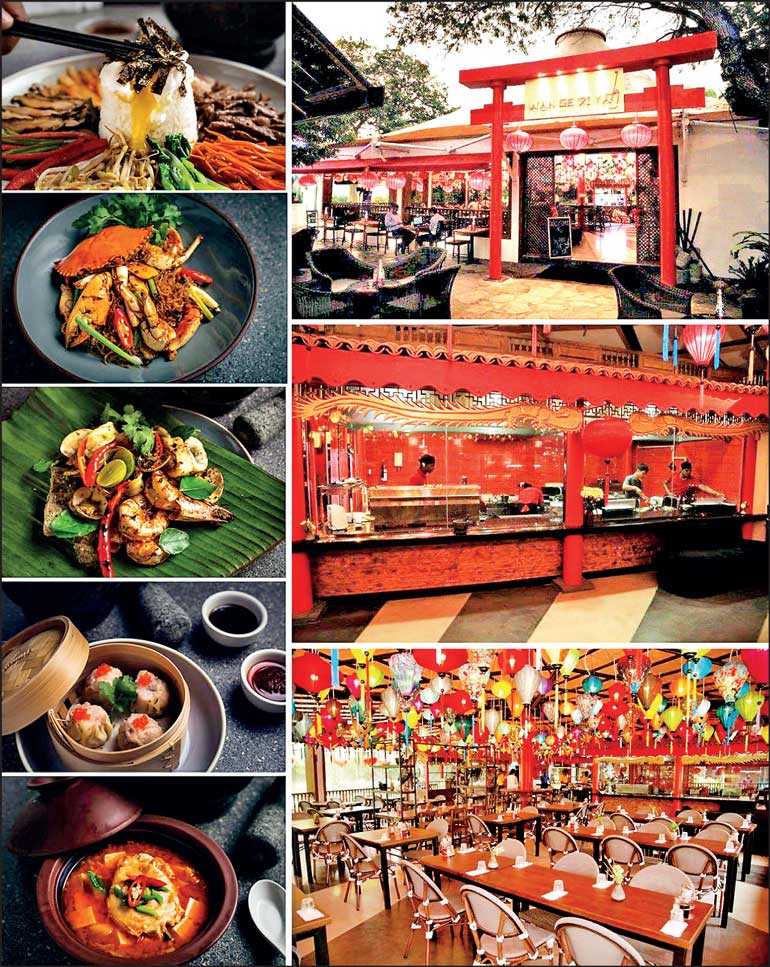 ---
Opens first of its own restaurants at ODEL's Promenade offering dishes from 8 countries under one roof
If, as the English poet William Cowper observed more than 200 years ago, "variety's the very spice of life, that gives it all its flavour," the Softlogic Group's maiden foray into the world of Asian flavours and spice with its own restaurant brand, gives Sri Lankan foodies a literal cornucopia of gastronomic variety.

'Wan Ge Di Ya' – inspired by the traditional stone mortar and pestle common to many Asian cuisines – offering a carefully selected range of signature "street food" dishes from eight Asian countries, was opened by Softlogic Chairman/Managing Director Ashok Pathirage at the 'Promenade' at ODEL Alexandra Place. This heralds an expansion in scope for Softlogic Restaurants Ltd., a fully-owned subsidiary of Softlogic Holdings PLC, which is also the master franchisee in Sri Lanka for three international restaurant brands: Burger King, Baskin Robbins and Délifrance.

Able to seat up to 80 diners at a time in a café ambience, Wan Ge Di Ya's menu is as eclectic as its kaleidoscopically colourful ceiling of 450 suspended Asian lanterns: the restaurant offers dishes from Malaysia, Hong Kong, Korea, Japan, China, Vietnam, Thailand and Singapore under one roof, providing diners the choice of experiencing one cuisine at a time, or sampling the delights of all at one sitting.

Dishes chosen by Wan Ge Di Ya's Culinary Consultant – Sri Lankan born Australian celebrity chef Keerthi Hapugasdeniya (better known as "Chef Happy" in the culinary world), make up the authenticity-obsessed menu. Diners have the option of becoming creative not only by mixing nationalities around the table but by coming to the counter and selecting their own special mixes of desserts and juices to suit their palates. Some Asian herbs have been specially grown for Wan Ge Di Ya to ensure the dishes are as authentic as they can be.

"The Softlogic Group has extensive credentials in restaurant management as the master franchisee for Burger King, Baskin-Robbins and Délifrance, currently adding up to 27 restaurants in Sri Lanka," said Softlogic Holdings PLC Chairman Ashok Pathirage. "We felt it was time to launch our own restaurant, to cater to the growing interest in international cuisine, especially the piquant flavours of Asia and the Far East. The result is Wan Ge Di Ya, which will be unique in its versatility and live up to its brand promise of an Asian street food heaven."

Wan Ge Di Ya's culinary offering ranges from simple comfort food to the gastronomically exotic: Dishes like the famous handcrafted Chinese snack 'Har Gow' or Shrimp Dumpling, 'Som Tam,' the delicious pounded Thai green papaya salad, 'Okonomiyaki,' the popular savoury Japanese pancake and the Malaysian Nasi Lemak, compete for attention against 'Soondubu Jigae,' the fiery and flavour-filled Korean Kimchi Tofu Soup; Banh Xeo, the celebrated Vietnamese sizzling filled pancakes; the Singaporean classic BBQ Sambal Stingray; the Chinese favourite Roast Duck in egg noodle soup; and the restaurant's own signature dish – Mud crab in chilli and black bean sauce with glass noodles and fresh ginger.

While variety, taste and authenticity are points of emphasis, value for money is also a key consideration the restaurant says, with prices of dishes ranging from a purse-easy Rs. 450 to Rs. 1,200.

Occupying the largest single space in the Promenade at ODEL, Wan Ge Di Ya will be open from 11am to midnight, all days of the week, and diners will have no worries on parking as the restaurant is supported by the sprawling car park of the store.

Wan Ge Di Ya's Culinary Consultant Keerthi Hapugasdeniya or "Chef Happy" is an award-winning celebrity chef and is the owner and Managing Director of HappyK Solutions. He lives in Melbourne, Australia, and is the founder of many international organisations including Asia Pacific Onboard Travel and the Hoi An Culinary Event and International Food Festival.