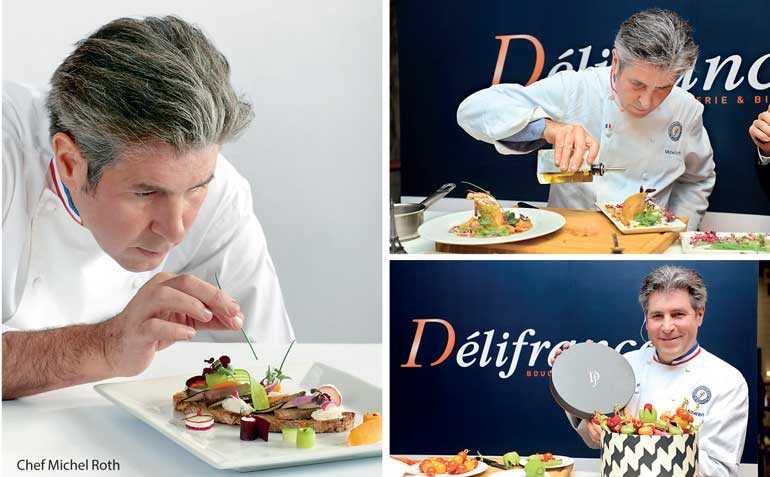 'Sharing the French way of life'
With a view to 'sharing the French way of life' Softlogic Restaurants Ltd., the authorised franchisee for Delifrance in Sri Lanka, and a fully owned subsidiary of Softlogic Holdings PLC, are pleased to announce the presence of none other than highly acclaimed 2-starred Michelin chef Michel Roth in Sri Lanka during the month of October.

Hailed as a 'boundless source of inspiration for Delifrance', Chef Roth who celebrates a five-year partnership with Delifrance, is responsible for having created several emblematic recipes for Delifrance, the world's leading French bakery-café-restaurant chain, including the 'Surprise Bread' amongst others. He has designed a complete hot food menu for Delifrance from appetiser to desert, combining French tradition with local flavours.

Chef Roth's presence in Sri Lanka signifies the strong relationship between Authorised Franchisee Softlogic and Delifrance, while Delifrance themselves view Sri Lanka as a market with tremendous potential to expand their own unique French cuisine. With growing urbanisation in the country and consumers looking for more unique food experiences and offerings, Delifrance is well positioned to capitalise on this market potential. French cuisine and the café culture is a strong trend in the urban metropolis of Colombo. Chef Roth's culinary demonstration hopes to engage customers in a unique experience where they have the opportunity to really appreciate the uniqueness of Delifrance products which are served around the world each day as part of a retail concept inspired by French art de vivre and Parisian elegance.

Chef Roth will demonstrate his undoubted culinary skills at Delifrance, located at Odel Alexandra Place on 10 and 11 October. During his glittering career Chef Roth was Executive Chef and Culinary Consultant at the President Wilson Hotel in Geneva, Head Chef at the Ritz Paris, as well as the recipient of the Bocus d' Or as well as the Meilleur Ouvrier de France! "I'm delighted to bring my signature style to Delifrance. We share the same passion; pairing French know-how with local inspiration," says Chef Roth. Delifrance has been one of the world's leading French bakery-café-restaurant chains since 1984. Thanks to its heritage as part of Grands Moulins de Paris, founded in Paris in 1919, Delifrance controls the entire value chain from the selection of wheat varieties, right up to the consumer's plate. Delifrance Franchise International SA, sister company of Delifrance SA, has 340 outlets in 11 countries.