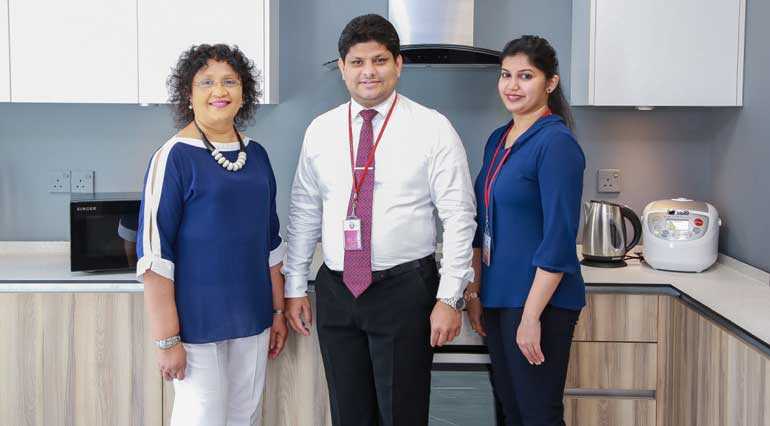 From left: Anoma's Kitchen Founder Anoma Wijethunga, Singer Sri Lanka Senior Brand Manager – Kitchen and Small Appliances Gayan Perera, Singer Sri Lanka Lakshika Gamage Assistant Brand Manager – Kitchen Appliances
---
Singer Sri Lanka PLC, the country's premier consumer durables retailer, announced its partnership with Anoma Wijethunga, the founder of Anoma's Kitchen, a leading cooking YouTube channel in Sri Lanka, for an exclusive product awareness video series. The MoU signing, which happened recently at the Singer Mega – Colpetty Store, officially declared the partnership between the two parties.

Anoma Wijethunga, the culinary expert behind the popular YouTube channel – Anoma's Kitchen, will conduct a video series educating the audience on her take on more than 10 state-of-the-art kitchen appliances from world renowned brands, on tips for usage, proper maintenance, cleaning and many more useful insights while treating them with delicious recipes.

Anoma's Kitchen is one of the most viewed YouTube channels in the category of cooking with an active subscriber base in excess of 450,000 which consists of both local and overseas food enthusiasts. The channel has accumulated Sri Lankans around the world who continue to embrace the cooking recipes and tips presented by Wijethunga. Many viewers have praised Anoma's Kitchen for the highly reliable content and additional tips shared by her on the kitchen appliances used in her videos.

Commenting on the new partnership, Singer Sri Lanka Marketing Director Shanil Perera said: "We are delighted to partner with Anoma's Kitchen to launch a video series which will enhance product awareness of more than 10 modern kitchen appliances. This video series will provide a wealth of knowledge on Singer's wide range of kitchen appliances, including tips for long-term usage. Anoma's Kitchen YouTube channel has a growing subscriber base and we will be able to grasp a wider audience through this video series."

While most other cooking YouTube channels only focus on food recipes, Anoma's Kitchen stands out among the rest to deliver highly important tips and tricks for households to make their life at kitchen easier.

"It is indeed a pleasure to partner with Singer, a highly acclaimed company, for a refreshing campaign that will allow us to educate the households on a wide range of highly versatile kitchen appliances. Most of the people are unaware of their versatility and sometimes even though they buy a kitchen appliance, they are unable to make full use of it due to lack of knowledge on usage. This video series will bring solutions to most of their concerns and I recommend this to everyone who aspires to be clever at the modern kitchen," stated Wijethunga.

During the video series, Wijethunga will share her knowledge on kitchen indispensables such as air fryers, induction cookers, multi-cookers, electric grills, soup and smoothie makers etc. from world renowned brands such as Singer, Sisil, Prestige, Panasonic, Tefal, Moulinex and Kenwood.