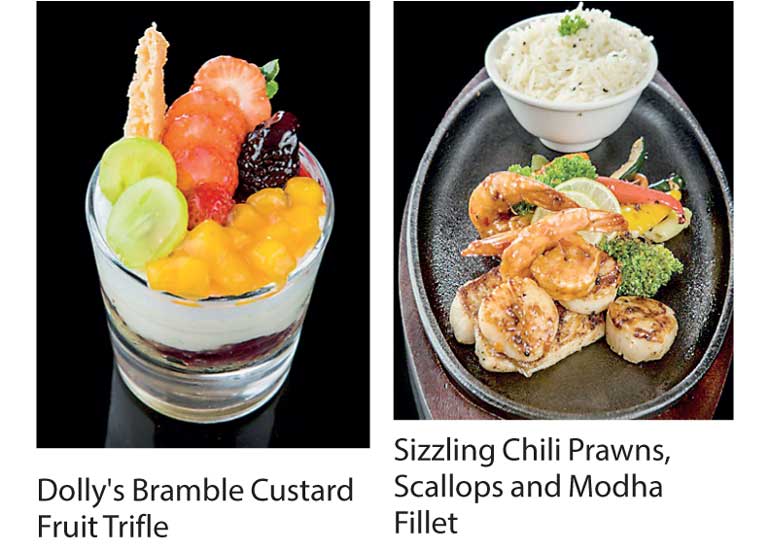 To the delight of all food connoisseurs The Grill presents you with even more options in its brand new menu for the complete gourmet culinary experience. In keeping with the 'spoiled for choice' theme renowned at The Kingsbury, the menu at The Grill now has 42 items from fresh salads, appetisers, soups, pasta, burgers, mains, US Angus Beef Steaks, and desserts.

Continuously changing and evolving its offerings to its valued patrons is something The Kingsbury takes very seriously. While the 'pièce de résistance' at The Grill are its steaks made from premium Angus Beef from USA, the new menu sees more mouthwatering seafood, poultry, pork and lamb options. A highlight of the salad section is the Tempura Prawns, Lobster and Mussels Cocktail. Capturing the essence of delicious crustaceans this delightful salad is served with melba toast and a spicy mayonnaise. The signature vegetarian mix with its tangy and sweet flavours is the perfect choice for vegetarians.

The appetisers see the addition of crab, duck, chicken, oysters and the highly sought after Foie Gras. The famed New Orleans dish 'Oysters Rockefeller' with its rich hollandaise sauce is something seafood lovers will immediately recognise. A surprise addition with an oriental twist is the Duck and Vegetable Spring Rolls and Chicken Dumpling Soup. The pasta section is a welcomed addition along with the Grilled Pork Belly in the 'Burgers and More' section of the menu.

The highlight of the new menu is of course are its mains, with 15 options to choose from. Beef takes center stage at The Grill, and only the choicest cuts of premium Angus beef from USA are chosen. Renowned for its superior quality and tender texture, American Angus beef is the preferred choice amongst gourmet steak houses around the world. Filet Steak, T- Bone Steak, Sirloin Steak and Surf & Turf are a definite must try especially for the discerning steak connoisseur. In addition to the mouthwatering steaks, Traditional Tendered Beef Stroganoff, US Beef Ribs, Irish Stew, Sizzling Chili Prawns, Scallops and Modha Fillet are some of the new mouthwatering additions. Be it rare, medium rare, medium or well done, The Kingsbury culinary wizards will ensure a taste experience like no other along with the resident Sommelier who will pair the perfect vintage to compliment your meal.

For those with a sweet tooth, the desserts section in the new menu will surely not disappoint, with Double Chocolate Brownie, Pineapple and Coconut Cake and Dolly's Bramble Custard Fruit Trifle to name some. The desserts are presented as works of art that you can tuck into for a heavenly experience. The flavours, service and ambience at The Grill all come together for a very special dining experience, be it lunch or dinner, business or leisure. Experience the new menu at The Grill today, visit thekingsburyhotel.com/colombo-restaurants/the-grill/ or call 0771087720.