Chef's Guild Lanka Chairman Gerard Mendis using Pelwatte products in the cookery demonstration
---
Sri Lanka's 100% local dairy manufacturer, Pelwatte Dairy Industries Ltd., was recently the proud sponsor of the Central Province Chef's Guild Meet-Up. The gala event was held at Amaya Hills, Kandy and saw the participation of the cream of culinary artisans from the Central Province. The event included a press conference, cookery demonstrations, and the chef's guild meeting followed by fellowship lunch.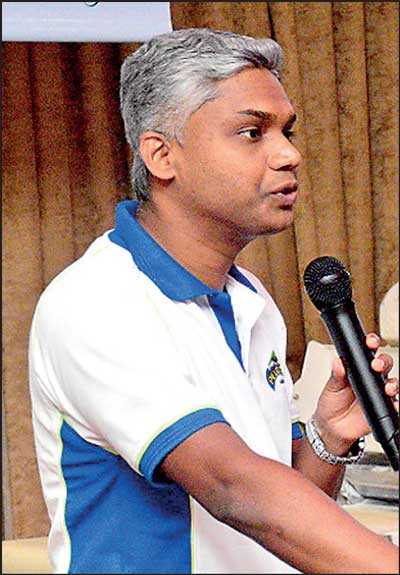 Pelwatte Dairy Deputy General Manager Susantha Malwatta addressing the gathering


The Head Table at the press conference included the culinary prowess of Chef's Guild Lanka Chairman Gerard Mendis, Chef's Guild Lanka Executive Committee Member and Grand Hotel N'Eliya Executive Chef Priyanta Weerasinghe, Chef's Guild Advisor Kandy/Nuwara Eliya Region Executive Chef Travo, Chef's Guild President Kandy/Nuwara Eliya Region Executive Chef Lal Senevirathna (Hotel School Kandy), Chef's Guild Vice President Kandy/Nuwara Eliya Region Executive Chef Sanjaya Marasinghe (Ozo Kandy), Chef's Guild Treasurer Kandy/Nuwara Eliya Region Executive Chef Suranga Thomas (Thilanka Hotel Kandy), and Amaya Hills Executive Chef Palitha Weerasekara.

Representing the sponsors and partners of the event were Amaya Hills Resident Manager Rushdi Raheem, Pelwatte Dairy Deputy General Manager Susantha Malwatta and Pelwatte Dairy Food Services Assistant Manager Razik Dole.

Speaking at the event, Susantha Malwatta noted: "Pelwatte Dairy has a longstanding history of supporting the culinary industry through high quality and affordable products. While we are a household name, our products are also becoming increasingly popular among the hotel, bakery and restaurant sector. Our bulk butter in particular is renowned for its great taste, value for money and high quality."

Following the press conference, the Chef's Guild also held several cookery demonstrations using Pelwatte Dairy products further highlighting their versatility. Pelwatte Dairy uses only 100% locally sourced dairy milk with no added preservatives, flavours and/or colouring.

Apart from its portfolio of pasteurised and powder milk, butter and yoghurt, Pelwatte also recently added a range of premium flavours to its ice cream range. These too are expected to be used widely in the hotel sector.

"Pelwatte Dairy will continue to support the Chef's Guild throughout its operations in 2019, and also be a part of meet-ups being held around the country. We want to be an active part of the growing tourism sector and hope to contribute through our products to other areas of the country as well. The next meet-up is scheduled for the Southern Province and we also look forward to the main event of the year which will be held in Colombo," Malwatte added.