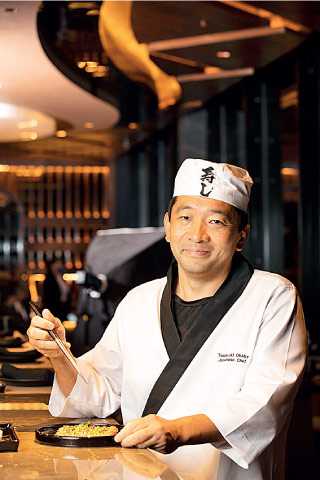 Japanese Chef Toshiyuki Okabe
---
Internationally-acclaimed Japanese Chef Toshiyuki Okabe, whose impressive work experience lists Bangkok Marriott Marquis Queens Park, JW Marriott Mumbai Sahar, Four Seasons Hotel Mumbai and Grand Hyatt Mumbai, among others, is now at The Kingsbury Colombo.

The Master Chef is excited to be at the helm of the recently opened Tenku – the Japanese restaurant. Located at the hotel's rooftop, it promises a multi-sensory experience with panoramic views.

Okabe feels that Tenku's extensive fine-dining menu is his signature offering to the restaurant's clientele. As each item is crafted with devotion and passion, he finds it difficult to pick a favourite. "My aim is to give our valued guests the impression that they are dining in Japan. I look forward to introducing the diversity and range of Japanese cuisine to Sri Lankans," he stated.

Chef Okabe counts film stars such as John Travolta, Sha Rukh Khan and Tiger Shroff among the celebrities he has had the pleasure of serving.

The Chef's creativity runs deep. "My inspiration has always been my colleagues," Okabe said humbly. He went on to state that he finds Sri Lankans very kind and polite, and that he looks forward to working with the talented Kingsbury team.

Born in the city of Kumagaya in the Saitama prefecture in Japan, Chef Okabe loves to read, draw and travel. Asked about his dreams for his future, he replied that it is to "stay healthy and be happy".

Catch Chef Toshiyuki Okabe in action at Tenku – the Japanese Restaurant at The Kingsbury Colombo.

Prior reservations are recommended.

The Kingsbury Colombo adheres to stringent safety protocols, having received the 'Safe and Secure Tourism' Compliance Certificate from the Sri Lanka Tourism Development Authority in 2020.