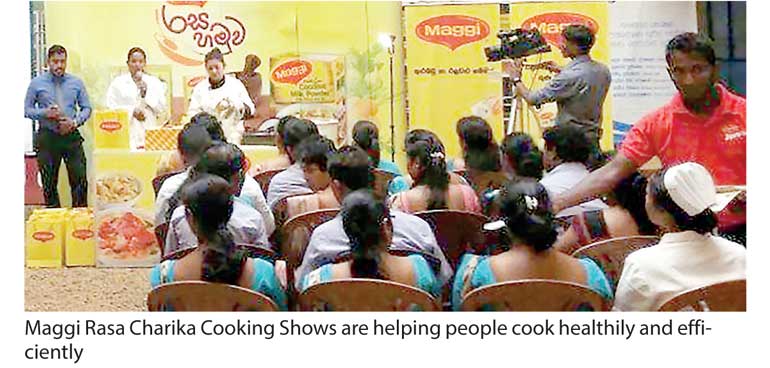 Nestlé's iconic Maggi brand has renovated its popular chicken flavoured noodles to include no less than eight spices to enhance taste. In a country where spices are used as natural flavour enhancers for curries and other local dishes, Maggi has followed a similar route in its noodle renovation. It is using vegetables, herbs and popular spices traditionally used in our Sri Lankan kitchens, to add flavour to its noodles range.

This is the latest in a string of product renovations for Maggi. The brand began transforming its range last year in response to local consumer preference for more natural and familiar ingredients, such as those typically found in their kitchen cupboards. The move is part of the new Maggi 'Simply Good' initiative to inspire and offer tastier and more nutritious choices, in line with Nestlé's global commitment to enable healthier and happier lives.

The new Maggi chicken flavoured noodles contains popular spices like coriander, cardamom, turmeric, cumin, black pepper, nutmeg, fenugreek and aniseed. Maggi Rasa Musu, an all-purpose seasoning designed for daily cooking, also contains a unique blend of spices like garlic and chilli, as well as turmeric, cumin, nutmeg and fenugreek.

"This is an important milestone for the brand. I'm sure Maggi lovers everywhere will be pleased that their favourite Maggi products are now enhanced with ingredients they know and love, like spices and vegetables. We look forward to continuing to offer our consumers tastier and more nutritious cooking solutions," said Nestlé Lanka Vice President – Food Priyadarshinie Karunaratne.

Fortification is another important element of Maggi's commitment to good nutrition, especially in countries like Sri Lanka where daily consumption of essential micronutrients is often lower than the required levels. The Maggi noodles range, manufactured at Nestlé's factory in Sri Lanka, is fortified with calcium where relevant, whilst Maggi Rasa Musu is fortified with iron.

With an ever-growing trend towards health-focused cooking, the 'Simply Good' plan will also continue to lower salt in the Maggi range.

Along with product changes, Maggi 'Simply Good' is encouraging food habits that support healthier and happier lives. On-pack and online advice and recipes, as well as local events such as the Maggi Rasa Charika Cooking Shows, are helping people cook healthily and efficiently. Maggi's Facebook page https://www.facebook.com/MAGGISriLanka/ offers recipes for easy-to-prepare meals with Maggi, to encourage the younger generation to cook tasty meals as part of a balanced diet.

"Our purpose as a company is enhancing quality of life and contributing to a healthier future. This is what gives meaning to what we do. Offering tastier and more nutritious choices is a key part of living our purpose. We will continue to inspire and help people cook good food with fresh ingredients, and engage with all our stakeholders to deliver more nutrition to large segments of the population," said Nestlé Lanka Managing Director Shivani Hegde.