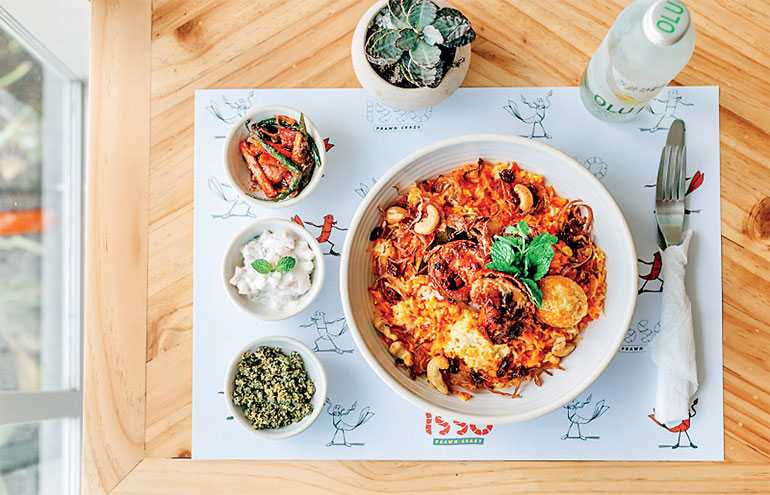 Lobster Biryani served with Malay pickle, cucumber raita and mint chutney
---
The prawn experts, aptly named 'ISSO', celebrates their third anniversary on 23 March this year. From humble beginnings at their small and cosy 600 square foot outlet at Sulaiman Terrace, the restaurant has slowly expanded over the years and opened their flagship and second outlet at Ananda Coomaraswamy Mawatha in Colombo 3.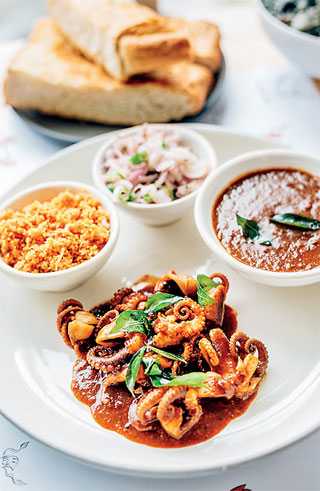 Baby Octopus prepared in 'The Northern Twist' style (Jaffna Curry) served with roast paan, pol sambol and onion sambol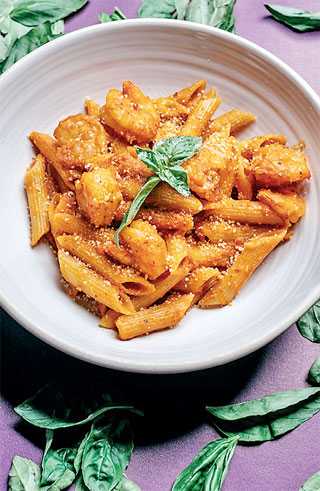 The Italian Job: Prawns: Penne pasta + tomato + cream + pesto + parmesan cheese


Speaking about their three years in operation, ISSO Co-founders Apinash Sivagumaaran, Fawaz Fassi and Shuaib Yusoof said, "For us, the ISSO journey is a dream come true, particularly our phenomenal growth and the establishment of our flagship restaurant in Colpetty. We would like to take this opportunity to say a big thank you to our prawn-crazy customers, the members of our team, our vendors, partners, families and friends, who have all been supportive and active members of our ISSO journey and without them none of this would have been possible."

"Our fourth year is going to be an exciting one as we will continue on our journey of expansion both here and abroad. As our next venture, we are preparing to open doors of our ISSO outlet in the Maldives in May. We look forward to growing our brand locally and internationally," they added.

Having started with and perfected the art of serving mouth-watering dishes of prawns, ISSO now offers a wide variety of seafood options for those looking for an alternative to prawns. Customers can order lobster tail, baby octopus, blue mussels, red mullet and a vegetarian option containing a trio of mushrooms in addition to the prawn combos. The restaurant chain is known for using only the freshest, high quality ingredients and for making quality their highest priority.

ISSO was conceptualised and founded by a passionate and innovative trio that includes Apinash Sivagumaaran, Fawaz Fassi and Shuhaib Yusoof. The ISSO concept revolutionised and reignited a passion for prawns amongst the public. They have continued to deliver novel experiences with their reinvention of the traditional biryani; with the introduction of the Lobster Biryani, which is not available anywhere else. They have also remained consistent, delivering their popular staples such as 'The Northern Twist' (Jaffna Curry), which happens to be their all-time hot seller.

ISSO caters to a wide spectrum of taste palates, using only the best quality ingredients from the region. The core concept is prawn centric, and the simple three-step process allows you to customise your own combo meal by initially selecting the prawn size, followed by the preparation style and the type of carb. Both restaurant outlets are open from 11 a.m. to 11 p.m. throughout the week and offer dine in and free delivery services (within Colombo city limits), along with outdoor seating and reservations. They can also be found on Uber Eats and PickMe Food.