---
Surprise your taste buds and enjoy the 'Summerlicious' promotion at Harpo's Cafes & Restaurants, now on for the sixth consecutive year.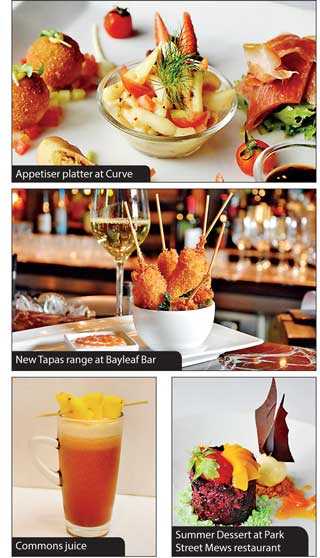 With the hot and steamy weather the Summerlicious program offers long cool drinks, light salads and summer dishes for you to enjoy.

Simple and delightful summer menus with fresh salads with seasonal fruits and vegetables, refreshing healthy juices, delicious desserts, tropical cocktails and a line-up of summer vibes is presented to savour the flavours of the season.

"We bring this promotion each year in July which is all about fresh, healthy and light-hearted meals to relax and enjoy the happy vibes at our restaurants," said MD Harpo Gooneratne.

The Bayleaf garden, Park Street Mews restaurant, Curve Tapas Bar, Colombo Fort Café and Commons offers al fresco dining for some who wish to enjoy the tropical weather.

The Bayleaf brings classic Italian flavours to your dinner table with the Italian summer delights on offer – starters with light salads with buffalo mozzarella and seasonal vegetables. The mains offer a fresh pasta range with linguine tossed with prawns, or grilled sword fish, pan-fried chicken breast or pork fillet with delightful accompaniments.

Desserts are a choice of Creamy Strawberry Semi Freddo or Peanut Butter and Chocolate Shortcake Tiramisu. There's Pradeep on vinyl weekly at the bar from 8 p.m. onwards along with summer cocktails and happy hour deals from 5 p.m. to 8 p.m. The Wine & Tea Room offers a delightful menu to enjoy with specialty wines for private dining pleasure.

Park Street Mews Restaurant presents fusion specials with an Assorted Appetiser platter, Grilled Fish Fillet, chilled Melon Gazpacho, Salmon Fillet topped with Prawn and delicious desserts with Pina Colada Cremeux with Caramel Jelly and Summer Pudding with Prune Ice Cream for dessert.

Colombo Fort Café- Euro Mediterranean fare with local highlights including Cucumber Mint Lemonade, Classic Sangria, Greek Salad and range of fresh juice and cocktails to enjoy at this heritage site.

Commons Coffee House and Commons at Hatch presents a selection of chilled coffees, frappes, smoothies and a choice of fun light dishes for all to enjoy

Harpo's Pizza & Pasta Nugegoda, Ethul Kotte and Ja-Ela offer two summer pizzas along with its range of 30 flavours in four sizes including the gigantic party pizza and the only 22" square pizza, gluten free crust pizzas, vegan pizzas and not forgetting a selection of pastas, sides and desserts. Order online or call 486 9000 or Uber Eats for delivery.

Curve Tapas Bar present summer vibes with live music offering jazz, funk and pop from Thursday to Saturday along with a range of tapas and fresh homemade ice cream.

Enjoy 'I Love Summerlicious' at Harpo's Cafes & Restaurants; log on to www.harposonline.com.