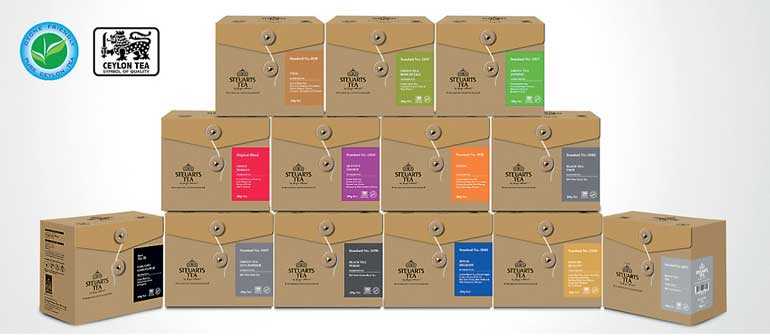 George Steuart Teas, known as the 'Original Ceylon Tea People', launched their Craft Box range of teas along with Ozone Friendly Pure Ceylon Tea Certification given by the Sri Lanka Tea Board.

The range consists of 13 different types of teas which come in 200 g Craft Boxes to support the natural process through look and feel.

The range included the popular black tea variants such as PEKOE, OP1, FBOP, Green Tea Gun Powder and also specialty teas such as Royal Delight, Fiesta and Queen's Choice as an extension to the range.

Chief Executive Officer – Consumer, George Steuarts & Co, Paddy Weerasekera, said: "We are happy to introduce the new Craft Pack range which includes a variety of Ceylon black teas, fruity teas, herbal teas and green teas. We have decided to initially launch these at our very own Town House Tea Lounge where customers can physically examine the many varieties of teas for its textures, aromas and even taste a sample before buying."

The Sri Lanka Tea Board was the world's first to achieve the 'Ozone Friendly Tea' recognition under the Montréal Protocol Treaty for cultivating and manufacturing tea in the territory of Sri Lanka without the use of Methyl Bromide (MeBr) or any other ozone depletion substances.

"Today our brand is very popular among regular tea drinkers locally and we are also proud to say that we export our tea to over 50 countries. Locally, the BOPF grade, Dust (Kahata) and Green Tea is sold in most retail outlets across the island. There are so many other types of tea which we don't get to taste unfortunately as it's not freely made available. We want to offer these teas to the local market and do that in an affordable way. That's one of the reasons we made these 200g packs and priced them economically. Now you can taste the finest Ceylon Black Teas and specialty teas for as low as Rs. 10 a cup," Paddy remarked.

In 1835 James and George Steuart established colonial Ceylon's very first business house. The main line of business at the time was the export of traditional commodities such as tea, rubber and coffee, but it was tea that the company really took pride in developing and transforming to be the hallmark of George Steuart and Company.

James and George Steuart hailed from the Scottish highlands, where tea in its many varied forms was served more as an art than a way of life. Be it High Tea, breakfast tea or simply a cuppa to cheer, tea drinking was a finely-honed passion. Naturally, arriving in Sri Lanka laden with great expectation for indulging in the art of tea-making, the Steuart brothers were dedicated to create their own distinctive blend of Pure Ceylon tea. They traversed the island and made unique blends of tea containing distinctive flavours, delightful aromas and scintillating liquors.