The entrance of Galley 52
---
The Food Cartel, a local based company with a management team from Dubai, operating and owning over eight restaurants over 10 years, specialising in quick service restaurants and fine dining and theme concepts, has opened its first 'themed' restaurant in Sri Lanka, catering to gourmet food lovers from across the globe.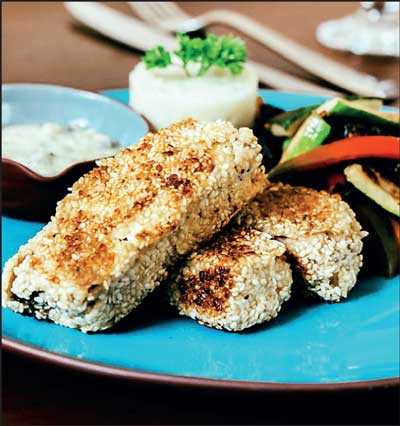 Sesame tuna steak – yellow fin tuna pan fried and coated with sesame served with zuchini and a blue cheese sauce


Launched in the Galle Fort and interestingly named Galley 52, this restaurant sports some unique décor that makes you remember the interiors of those age old ships that sailed the seas way back when. This theme is carried out through the entire restaurant, including the vintage looking signage at the restaurant entrance that beckons you to come and explore more of this interesting venue.

Once inside, clients can enjoy a chilled out ambience, soft relaxing music, breathtaking sunsets and outstandingly delicious food, all served in an atmosphere of breezy sophistication.

The restaurants well balanced and joyfully great tasting menu, has a delicious cornucopia of dishes that is incredibly seductive, with a blend of flavours from a range of different regions, such as the Far East, South East Asia, Mediterranean and Sri Lanka.

Each of the dishes are perfectly executed, using local produce of seafood, vegetables and fresh herbs, uniquely blending international and Sri Lankan flavours together and designing a range of 'one of its kind dishes", giving a dining experience that delights both the eye and taste. This is one of the key aspects that differentiates Galley 52 from the other restaurants in the country.

Their range of signature dishes of thoughtfully rendered classics with a twist, include the Nasi Goring coupled with a poached egg and Anne Bonnys fish and chips, one of the most popular dishes amongst all the ladies, that harks back to the age of the pirates, which is interestingly served with a pol sambol mayonnaise.

Innovative stand out specialties offered include appetisers such as the 'kade paan' bruschetta, spicy coconut and chicken sliders, fresh cucumber shaped drum boats stuffed with stir fry minced chicken and hot basil as well as deep fried shrimps drenched in sweet spicy sauce of honey mustard sriracha.

Other exotic combinations, comprise of the yellow fin tuna steak coated with sesame and served with zucchini and a side of blue cheese sauce as well as the banana and date smoothies. All of these dishes emphasise excellent cooking techniques that match international gourmet standards.

Whilst Sri Lanka has been growing in popularity as a tourist destination year on year, it still has not been able to attract the foodie travellers that constitute a large portion of travellers from around the world. Hence, the idea behind the restaurant, is to attract and titillate the palettes of those experienced foodies who travel the world in search of new taste experiences.

"Galley 52 aims to serve honest food, giving new experience eating ideas to its customers. Food is no longer just a necessity, it requires imaginative and progressive innovation and people are willing to embrace that. We wanted to play an integral role in helping promote Sri Lanka as a great food destination," stated a spokesperson for Galley 52.

The local partner company of this venture is Ayura Leisure which owns and operates Villa Ayura in Galle Fort.

With top travel booking sites such as Trip Advisor mining its booking data to include new lists of the best food cities and food tours in the world, Sri Lanka needs more specialty themed restaurants to attract food loving travellers to the country. This devilishly cosy restaurant hidden away in the Galle Fort, is a definite must for any gourmet food buff looking for an interesting night out with a blend of great people and stunning food and concepts. Galley 52 is a place to step in and be inspired.