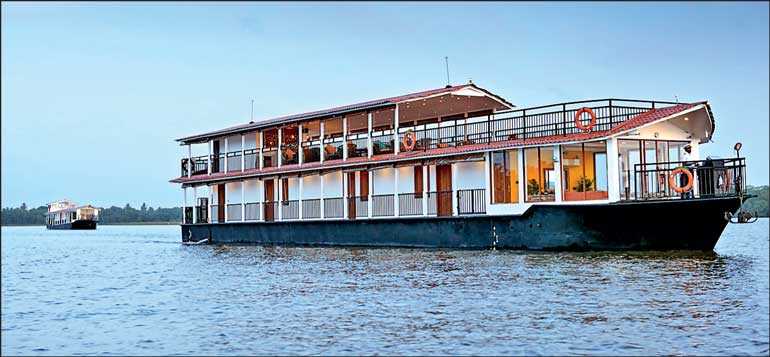 ---
Flow Luxury River Cruises by the Amber Collection part of the Debug Hospitality and Leisure chain, has recently tied up with Sampath bank opening doors to a host of unmatched privileges and benefits.

Experience the extraordinary at Flow by The Amber Collection. All Sampath Mastercard, Sampath Bank Visa and Sampath Bank American Express Credit Card members are entitled to special offers on a host of exciting packages and elegant experiences sailing aboard Flow.

Obtain massive discounts of up to 50% on double and triple cabin bookings on a full board river cruise that combines relaxation with adventure and excitement. Don't miss out on this offer which is valid till 31 July.

With its classically elegant ambience, enchanting lake views and delectable menu,

Flow by The Amber Collection is the perfect place to share an unforgettable stay with your loved ones while unlocking priceless travel experiences.

Anchored on the picturesque Bolgoda Lake, the two purpose built vessels, epitomise the essence of a traditional 'Walauwa', the symbol of luxury living from bygone days, and are decorated with antique furnishings and wood carvings. The cabins are equipped with all the amenities and facilities required to enjoy a truly comfortable and luxurious holiday.

You can wake up to the breathtaking view of the lake and either relax on deck while enjoying the tropical flora, fauna, exotic bird and aquatic life on a cruise accompanied by our naturalist or take the more adventurous route by exploring miles of untouched waterways and engaging in exhilarating water sports such as jet skiing, kayaking, tubing and jet boating.

Learn to fish in the traditional way on an 'Oruwa' from a local fisherman, enjoy a delectable barbeque with your catch, take an idyllic picnic to a surrounding island or take a dip in the pool at The Marina.

The efficient service offered by their staff caters to every whim and fancy you may have. They are focused on giving you to a tailor made experience no matter what your desire may be. Their chefs can whip up delicious comfort food or a well curated fine dining menu to pamper your taste buds.

The Flow Luxury River Cruises are a unique getaway for even just a weekend, as they are situated in close proximity to Colombo. They also offer an exciting and different setting for events and occasions that can truly captivate your guests.Flow is part of the Amber Collection, which is an offering of unique luxury, hospitality and leisure for business and leisure travellers by Debug Hospitality and Leisure. Apart from Flow, the Collection consists of boutique serviced apartments under the brand 'FR 16' as well as 'The Marina', which is a marina, country-club style club house and watersports centre situated on the Bolgoda Lake.