---
Yet another theatrical affair at the Mövenpick Hotel Colombo
Open kitchens have been the talk of the town, but the Japanese have long been ahead of the game when it comes to skilful theatrics and interactive dining.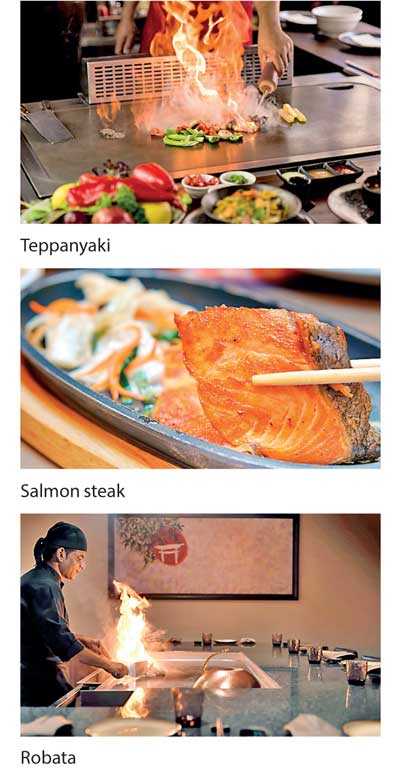 Step into the Mövenpick Hotel Colombo and experience Teppanyaki at the Robata Grill. Whether to watch blades move at dizzying speed across a grill or flames soar high into the air, teppanyaki is where it's at, whether for families, corporate guests or groups of friends ready to chow down.

The interior blends beautifully well into the dark, soft room with floor-to-ceiling windows looking out onto the busy streets. Hospitality continues to remain the centre of attention as the staff courteously greets and steers patrons to the Teppanyaki grill. Seating up to ten comfortably, it's the diner's own private space, bringing them the finely-tuned art of Teppanyaki, with onion volcanoes and food flying through the air with flourishes of the hand, as the talented Teppanyaki chef presents a meal to remember.

The Teppanyaki dinner menus start at Rs. 3,850, ranging from the surf & turf with American beef striploin, grilled prawns, garlic rice and stir-fried vegetables, to more elaborate combinations, from salmon steak to Australian lamb cutlets - all served with a healthy bowl of miso soup and a platter of sushi and maki. The lunch menu is simple yet filling, with prices as low as Rs. 1,350, and a menu ranging from chicken teriyaki, US beef striploin or seer fish, all served with miso soup and freshly cut local fruit.

With the hotel's impressive location and free basement parking and valet parking services, head down to the Robata and experience teppanyaki – an impressive show of culinary wizardry.

Call 7 450 450 for reservations.