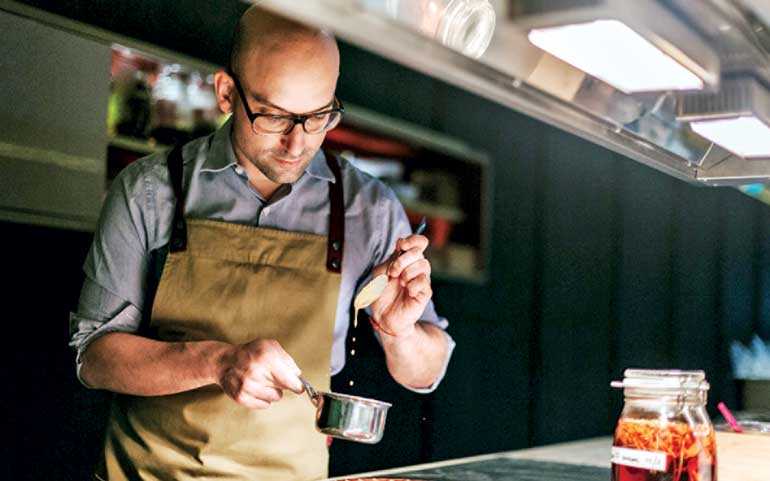 Critically-acclaimed fine-dining restaurant Nouri opened its doors under the direction of Chef Ivan Brehm, who is now bringing his talents to Colombo.

The Brazilian native has worked in leading kitchens around the world, having been awarded Chef of the Year by the World Gourmet Series in 2015, and leading 'The Kitchen at Bacchanalia' to its first Michelin Star.

With a multicultural background that has sculpted his love and passion for food, Brehm has structured a cuisine as eclectic as his own lineage – featuring culinary techniques and inspiration from his experiences across the globe.

His menu at Nouri evokes this global perspective through the fusion of influences from different cultures to produce plates which are both creative and original. Brehm highlights the universal nature of food as he showcases the universal touchpoints in all cuisines, bringing together cultures with his trademark 'crossroad cooking'. With a list of awards to its name, Nouri just won the Best New Restaurant (Western) 2018 award from the Gourmet and Travel Awards.

In the short span of almost two years, Colombo Supper Club founder, Naserah Tyebally, has enticed and educated the palettes of Sri Lanka with up to 16 pop-up dinners, showing appreciation for and exposing a variety of cultures around the world with cuisines from Latin America to Catalan, Singapore, Japan, India – the list goes on.

Colombo Supper Club aims to uplift the food culture within Sri Lanka by introducing clients to a range of rare ingredients that stretch the palate, as well as showcase unique culinary technique in cooking; all of which is made possible through the high caliber of chefs featured in the past. Colombo Supper Club's celebrity chefs are flown in by Sri Lankan Airlines and their beverages are supplied by Wine World.

The pop-up event will take place on Thursday 21 June at The grill at The Kingsbury – for tickets contact Naserah Tyebally on +94772300038.

Boasting spectacular views of the Colombo Harbor and the Galle Face Green, The Kingsbury Colombo is a five-star hotel that offers elegant accommodation in the heart of Colombo. Centrally located in Colombo, The Kingsbury Colombo is a short distance from popular attractions like the World Trade Centre and the Colombo Harbour. Bandaranaike International Airport is about 33 km away.

Elegantly designed yet spacious rooms offer oversized windows with breathtaking views of the Colombo Harbor and the Galle Face Green. Bright and airy, they are fitted with cable TV, a minibar and tea/coffee making facilities. Each room has an en suite marble bathroom offering Bulgari bathroom amenities and Frette linen. To relax, guests can visit the hotel's spa or work out at the well-equipped gymnasium.

Guests can dine at the hotel's multi cuisine restaurant which offers Western, Chinese, Japanese and South East Asian dishes.