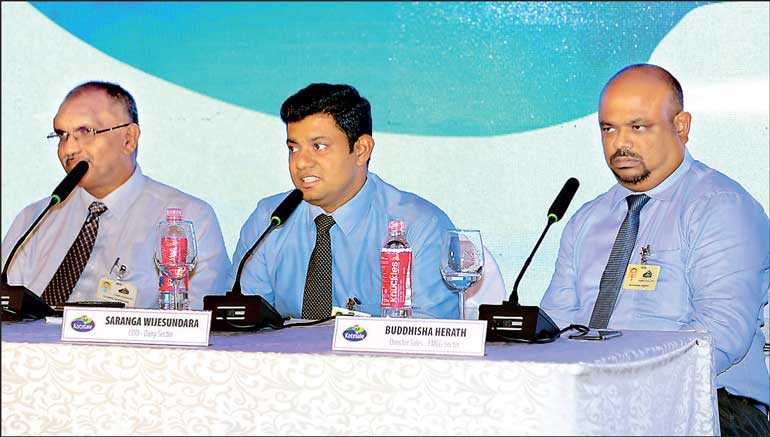 From left: Dairy Sector Group Manager Production Nimal Gunaratne, Dairy Sector COO Saranga Wijesundara and FMCG Sector Sales Director Buddhisha Herath – Pic by Nirmala Dananjaya
---
Cargills Quality Dairies has introduced Kotmale Butter and Kotmale Cheddar Cheese to the local market.

The new products are manufactured in Sri Lanka at world-class facilities and under strict hygiene conditions. It's made of 100% pure and nutritious Sri Lankan fresh milk, and is available at competitive and affordable prices.

Cargills Quality Dairies Ltd., a subsidiary of Cargills Group, affirmed its commitment to the Sri Lankan dairy industry by continuously investing in the most advanced dairy facilities in the country. Today, the company is proud to be the largest and only local manufacturer of dairy products in Sri Lanka. Their dairy business, driven by Kotmale and Magic brands, is underpinned by a philosophy that aims to strengthen farming communities. Through such investments, they not only to contribute to Sri Lanka's self-sufficiency in fresh milk, but also towards the health and nourishment of its people.

Operating out of world-class production facilities, their dairy manufacturing plant boasts state-of-the-art technology, robust environmental management processes, and ISO certification for quality and food safety. This has allowed them to place quality and innovation at the forefront of their business, translating best practices into success, including market leadership in the dairy ice cream category.

Supplementing an unwavering commitment to quality and innovation, Cargills is dedicated to uplifting the lives and livelihoods of our network of thousands of dairy farmers across five Provinces: Central, North Western, North Central, Western, and Northern. Convinced that an empowered dairy force is central to sustaining the dairy industry, Cargills has, for instance, assured its farmers of a steady income through the purchase of fresh milk, and supported the education of their children through the Cargills' Sarubima program. In fact, Cargills' commitment to the local dairy industry extends even beyond its own ecosystem. When farmers outside the Cargills network — in Ridiyagama in the Southern Province — were unable to sell their milk, for instance, Cargills stepped up to purchase large amounts of the surplus, cushioning negative fall-back on the industry.

Embracing this commitment, Kotmale and Magic aspire to be the most trusted dairy brands in the country. Over several years, the brands have won mass appeal for a distinctive product range which includes fresh and flavoured milk, ice cream, set and stirred yoghurt, drinking yoghurt, cheese, and fresh cream. Each of these products have been consistently defined by nutrition, freshness, and affordability. Further, by ensuring that their products are locally sourced, the business recognises the important role it plays in supporting the Sri Lankan economy — be it in uplifting Sri Lankan farmers or in saving foreign exchange. It is this deep sense of responsibility that guides and drives their business.