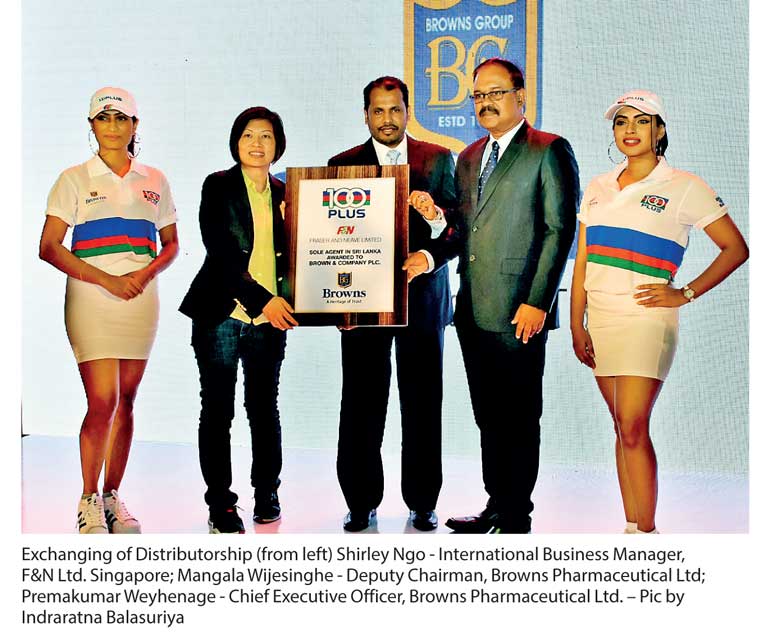 Unveils new range of re-energising drink to the market
F&N Singapore declares Browns Pharmaceutical sole distributor
By Safna Mallik

Browns Pharmaceutical, a subsidiary of the Browns Group (BG), this week launched the popular 100Plus isotonic drink in Sri Lanka, which aims to keep athletes and fitness enthusiasts rehydrated and re-energised for a healthy and active lifestyle.

Browns Pharmaceutical Ltd. Deputy Chairman Mangala Wijesinghe, F&N Ltd. Singapore International Business Manager Shirley Ngo, Sports Minister Dayasiri Jayasekara, Institute of Sports Medicine Director General Lakshman Edirisinghe and Browns & Company officials participated in the launch event.

Speaking at the occasion, Wijesinghe said: "We believe it will be very helpful and useful for those who engage in sports for their active lifestyle. We are looking forward to enhancing the distribution of products and we take efforts to reach consumers island-wide."

Fraser and Neave (F&N) Ltd. handed over the official document to Browns Pharmaceutical to be the sole distributer of the 100Plus isotonic drink at the launch.

F&N Ltd. International Business Manager Shirley Ngo stated: "100Plus Isotonic Energy Drink was an idol to people. Besides sports we encourage people to have an active lifestyle and health routine. In Singapore we encourage people to walk 10,000 steps every day, nonetheless, the 100Plus isotonic drink helps rehydration as it contains thirst-quenching and energy replenishing ingredients. Taste it, feel it, live it."

The 100Plus isotonic drink was top listed in Singapore and Myanmar. It is comes in four flavours, namely 100Plus - Original, 100Plus – Lemon Lime, 100Plus – Berry and 100Plus - Orange. The drink is available at leading supermarket outlets and pharmacies across Sri Lanka.

"Despite the hectic daily schedule of the upcoming election, 100Plus isotonic drink will be useful for us to be re- energised and rehydrated," the Minister quipped, adding, "My responsibility as Sports Minster was challenging because of public concerns for positive results in sports. Talent and skills definitely go to waste if it's not nurtured and nourished properly. Physical strength and endurance is necessary for an athlete. As such this product is a healthier solution to build stamina for success in sport."

Institute of Sports Medicine Director General Lakshman Edirisinghe recommended the 100Plus isotonic drink saying: "There is a huge demand for isotonic solutions for sportspeople in Sri Lanka. Under the Ministry of Sports we have already registered 60 federations and 60 sports which engage in high performance sports."

"This product is launched with guidance under the Ministry of Sports. It is a caffeine-free healthy solution to rehydrate the human body. Lab research has proven that it rehydrates 43% better and faster than water. For a person who engages in regular exercises, 100Plus can replenish the level of energy and minerals lost."

Several sports personalities present at the event sampled the new drink and were given free samples by the organisers.