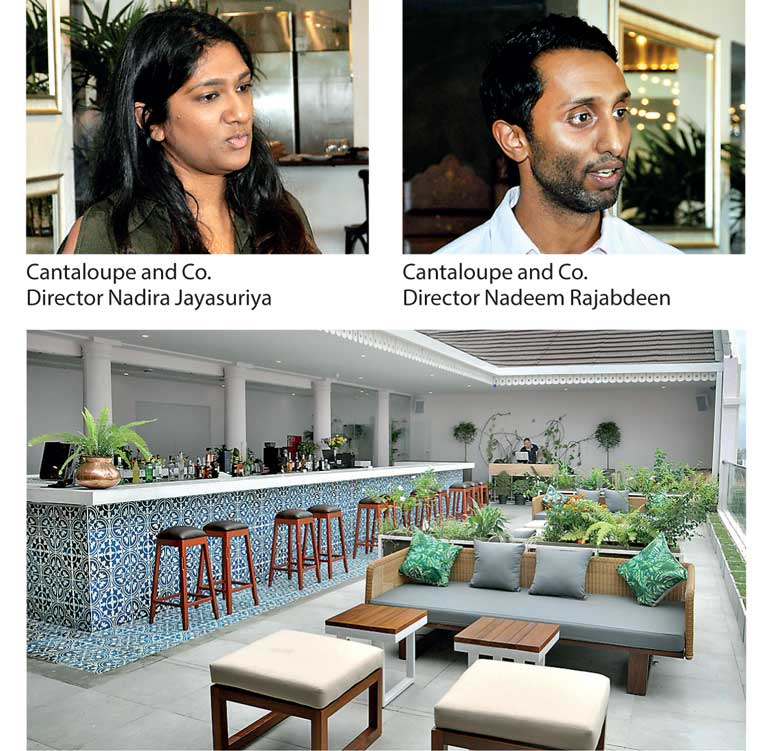 Fulfilling a long-felt need for a spectacular dining experience that blends exquisitely-prepared dishes, ambience, lighting, music, great service and a cool vibe to perfection, Botanik by Cantaloupe & Co. is the hottest bistro in town, having commenced operations in September. Colombo has long thirsted for a unique dining experience and the newly-opened Botanik serves all these elements on a platter! Cantaloupe brings to the table a dynamic team, fresh ideas and valuable experience in curating unique lifestyles for its customers.

Overlooking the Twin Towers of the World Trade Centre, located on the 6th floor rooftop of the Fairway Colombo in the commercial, tourist and historical Colombo Fort, Botanik is the perfect springboard from which to gaze out at Colombo's rapidly rising skyline.

Botanik customers can steep themselves in a sensory smorgasbord. The uniquely themed décor and bistro vibe of Botanik brings alive stands apart as a singular lifestyle experience. Exuding a warm and cosy contemporary and rustic chic, Botanik consists of three diverse spaces – the main restaurant, the terrace and the verandah, which blend seamlessly into one another.

One of the centrepieces at Botanik will be the 34-feet long island bar in the balcony, which will act as a link between the inner spaces of the veranda and the bistro to commune with the outdoor terrace. The different mood of each of these three distinctive areas allows clients to stroll through the venue, choosing to lounge and linger in whichever space they choose.

Even more exciting news for gourmands will be the fact that the cuisine at Botanik will be curated by Partner Chef Rishi Naleendra, a Sri Lankan- born Michelin star chef – who brings his experience working in top of the line restaurants in Australia and Singapore to bear in Botanik. Currently, he owns and manages Cheek by Jowl, a Modern Australian specialty restaurant in Singapore. Inspired by the idea of pioneering a new concept with Botanik as envisioned by the partners of Cantaloupe & Co., the Michelin-star chef is delighted to be part of the dynamic team.

Chef Rishi plans to present a twist on the traditional bistro fare. Rustic features and details shine through with chipped plaster walls framing the show kitchen, decked with signature 'subway tiles', where culinary maestro will work his magic with his team A lot of effort has been made to celebrate fresh, locally sourced ingredients and the menus will change with the seasons.

The beverage experience has been curated by Cantaloupe's Group F&B Manager from Brittany in France, Mathieu Delin, who started his career as a Somellier in his home country and worked around the world in London, Dubai and France. His diverse international experience and passion will shine through in his beverage menu as also the overall ambience of the venue, which he will orchestrate as the mood changes from afternoon to evening.

Botanik is the brainchild of luxury lifestyle company, Cantaloupe & Co., which owns and operates two hotels in the south of the country – Cantaloupe Aqua and Cantaloupe Levels in Thalpe and Rumasalla respectively. Upcoming projects include Cantaloupe Veralu Verala and a beach house in Midigama, Weligama, a popular surfing destination. To find out more, connect on social media using @botanikbistrobar and call +94 (76) 6445888 or email reservations@botanik.lk for reservations.