FLOW offers diners savings for advance, online, and group bookings during Indian Indulgence


FLOW, Hilton Colombo Residences, will host 'Indian Indulgence' dinner experience for 10 days beginning from 28 February until 9 March. Resident Indian Chef Vicku Ram will take centre stage as FLOW highlights one of its distinct cuisines during dinner with buffet and a Chef's Table offering.
Great savings during Indian Indulgence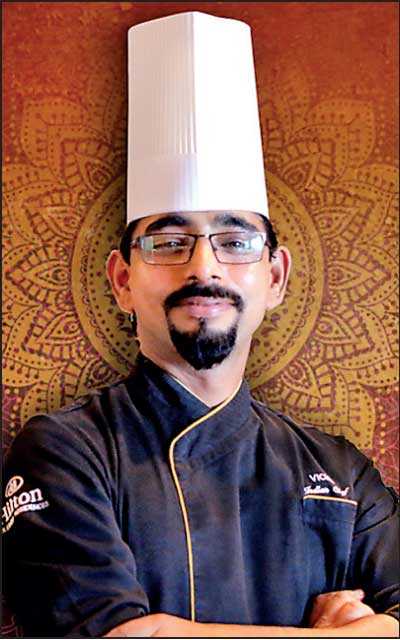 Chef Vicku Ram
Diners could enjoy great savings at Indian Indulgence. The booker will have their food bill wiped out by using the promo code 'IND' when making table reservations via flow.lk during this period. The first 25 reservations will receive dining vouchers for a poolside barbecue platter for two. Book a table for 10 guests and above on or before 3 March and stand a chance to win an exclusive Chef's Table experience at FLOW for up to 14 guests hosted by Chef Vicku Ram. For details of the offers and conditions, please visit www.flow.lk.
Buffet dinner at FLOW
To enjoy an authentic palette of flavours of Indian cuisine – spicy, sweet, sour, and exotic join Chef Vicku for 10 days at FLOW. The dining promotion aims to enhance the local and international culinary experience for diners, allowing them an opportunity to experience Indian gastronomic heritage right here in Colombo. The open kitchens and bustling activities behind the counters make your dining experience at FLOW all the more interactive. If you're looking to host family or friends and savour authentic Indian cuisine, book the private dining rooms which can accommodate up to 50 guests.

Buffet menu highlights include Mutton Dum Biryani, Chennai Masala Dosai counter, Amritsari Fish, Butter Chicken, Fish Hara Dhaniya, Tandoori Roti, Sevaiya Ki Burfi, Chaat action station, Papdi Chaat, Bhel and Pani Puri, and Gajar Halwa Tart. The dinner buffet will be served daily from 7 p.m. until 10 p.m. for an all-inclusive rate of Rs. 3,500 per person.
Chef's Table at FLOW
Make an impression while hosting business guests or family with a tailor-made formal menu starting from an all-inclusive rate of Rs. 7,000 per person. The Chef's Table accommodates up to 14 guests per seating.

The curated menu includes a five-course menu offering spicy terrine of tilapia, pickled mackerel with salted cucumber, oysters and caviar, chicken mulligatawny soup with lentils, lemon salted fillet of grey mullet with aloo gobi masala, turmeric buttered cabbage, hazelnut and parmesan pesto, masala-spiced sous vide lamb cooked in three ways, wild mushrooms, and cauliflower. Book your chef's table experience between 28 February until 9
March from 7 p.m. to 10 p.m.
Speaking of the offer, Hilton Colombo Residences Director of Food and Beverage Priyal Wijesuriya affirms that Indian cuisine is one of FLOW's five distinct cuisine offerings. Vicku Ram hails from India and has been the hotel's resident speciality chef responsible for ensuring the authenticity of cuisine in restaurants, banquets, and in-room dining. "Indian cuisine is undeniably a top favourite cuisine for everyone. It is also one of FLOW's distinct cuisines. I am confident that Indian Indulgence will be a hit amongst diners in Colombo. Our private dining rooms can hold up to 50 guests making it ideal for diners wanting to host friends, family and even business associates during this period," said Wijesuriya.

Guests can make their table reservations and take advantage of dining savings made easy by logging into FLOW's dedicated website on www.flow.lk. In addition, speak to the Restaurant Manager Ruwan Amarasekera on 0771 001 794 or 0 115 344 644 extension 635 or reach out to the team on FLOW's Facebook Page.