Some stalls including Sri Lanka
---
The Consulate General of Sri Lanka in Guangzhou participated in the Asian Cuisine Festival which was held from 19-23 May in Guangzhou as a part of the Conference of Dialogue among Asian Civilisations that was held in Beijing from 15-22 May.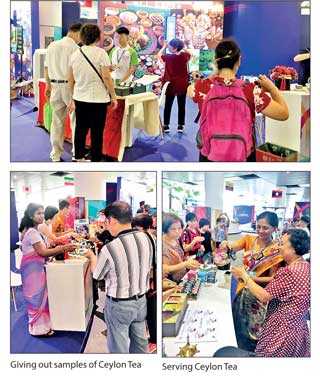 The Consulate General designed and decorated the Sri Lanka stall, which displayed pictures of food, Ceylon tea, tourist sites, natural beauties as well as several decorative items of Sri Lankan handicrafts. With the cooperation of the Guangzhou based, Sri Lanka tea company 'Tea Talk Trade Co. Ltd.', the Consulate served 'Ceylon tea' to a large number of visitors who came to the stall. Samples of 'Ceylon tea' of the seven regions were also handed out to visitors after explaining about their different flavours, colour, aroma, and strength of each tea of the regions. Other Consulates from Indonesia, Philippines, Vietnam, Laos, Ecuador, Saudi Arabia, Cambodia, Singapore, Japan, Thailand, India, Turkey, Nepal, Thailand, Korea, and Malaysia and several local hotels, restaurants and food companies also participated in the festival. There was a large crowd which visited the Sri Lanka stall throughout the period of the festival and a lot of publicity was given to the Sri Lanka stand which was telecast live on China Central Television (CCTV) and Dayoo website.

There were parallel forums related to food and culture during the festival. Consul General Priyangika Dharmasena was interviewed and contributed to 'Guangzhou Daily' and Silk Road Post on Sri Lanka and China food culture.